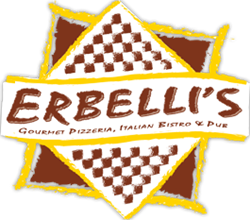 Kalamazoo, MI (PRWEB) August 01, 2013
The awards keep piling on at Erbelli's, like extra toppings on an already gourmet pizza.
The latest award came in July when WWMT Channel 3 in Kalamazoo announced Erbelli's Pizzeria, Italian Bistro & Pub was the people's choice for serving the Best Pizza in the TV station's annual Best of West Michigan awards.
This is the latest in community honors that Erbelli's has earned over the past several years, including the third year in a row that Erbelli's has received the Channel 3 award, and in 2011 first place honors in six categories for the Kalamazoo Gazette Reader's Choice Awards, and numerous Gazette awards in prior years. The Italian restaurant and pizzeria has regularly earned honors at the Portage Pizza Fest, including the winning entry in the 2013 Pizza Fest for Best Gourmet Specialty Pizza.
Erbelli's, with two locations, its original restaurant in Portage at 8342 Portage Road, and its new location at 6244 Stadium Drive in Kalamazoo, received rave reviews about both of its restaurants from customers participating in this year's WWMT Best of West Michigan selection.
"We found the food wonderful, the drinks fantastic and the service GREAT!" wrote Barb Russell of Plainwell. "The trip was well worth it!"
Another participating customer had a much longer trip for his pizza, coming from Las Vegas to find Erbelli's: "crowded but worth the wait. Great atmosphere, service … AWESOME!"
Erbelli's has begun offering a new "pizza of the month." In August, the restaurant will offer the "Jack and Jill Nuts and Berries Pizza," the award-winning pizza at this year's Pizza Fest. The 12-inch pizza for two has a lightly cooked, thin crust has a fresh poppy seed dressing base, fresh spinach leaves, Craisins (dried cranberries), crushed roasted pecans and rich feta cheese.
Erbelli's also recently expanded its Stadium Drive restaurant by 1,000 square feet for a new dining party room. "We expanded because our guests asked us to," said the owner. "We're looking to help guests with bigger parties, wedding rehearsals, graduations, business meetings" and other gatherings.