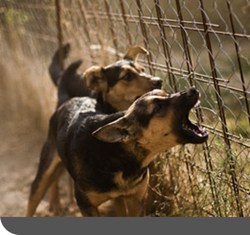 the attorneys will aggressively pursue justice on your behalf if you have suffered in a dog attack, but they would rather see the number of tragedies decrease through increased education and proactive prevention.
Los Angeles, Ca. (PRWEB) August 01, 2013
The Center for Disease Control reports in their "Dog Bite: Fact Sheet" that, each year, approximately 800,000 Americans suffer dog bites that require medical attention and that half of the victims are children. 386,000 of the victims require emergency medical treatment and some of these bites are fatal or result in catastrophic injuries such as blindness or permanent disfigurement. Children from the ages of 5 to 9 are the most likely to be bit, and they often receive the wounds on their face, neck or head. Attorneys at the Los Angeles Personal Injury Law Firm S & S Legal Group know from experience the pain and suffering dog bites can cause. "We have represented many families throughout Southern California after they have suffered the trauma of a dog bite. Though the victim of the actual bite may suffer the physical pain, the whole family typically suffers," says attorney Ramin Soofer. Sean Salamati, also of the S & S Legal Group adds "and in the summertime, we typically receive the highest number of calls. And since California nearly always leads the nation in the number of dog bite injuries each year, we believe that the summertime is a particularly important time to remind people of the dangers and how to avoid them."
There is data supporting attorney's point. Residents of California should be particularly cautious about dog bites because the state has an extremely high number of such injuries that require medical attention each year. A study by State Farm Insurance released in May of 2013 indicates that in the year 2012, approximately 17.1 million dollars were paid to claimants on 451 dog bite claims in California. The next closest state in the number of claims filed was Illinois with 337 claims and 9 million dollars paid (State Farm Releases Annual Top 10 States for Dog Bite Claims). Of course, this only represents one insurance company's data but State Farm is one of the largest insurance carriers in the nation. Their data clearly is a reminder of the risks that dogs can pose to the public especially in California.
Salamati says, "Because of the state's population compared to so many others, it seems likely that we will have more dog bites. But, especially in Southern California, we have excellent weather year-round" which, he believes, leads to "more people taking their dogs for walks in public, going to the park and the beach with them. The days are longer in the summer so dogs are out even more often. People may also visit during the summer and interact with an unfamiliar dog at a relatives or friend's home," he says. "We know that many victims are children who are often most attracted to dogs and whose faces are very near the animal's mouth. These animals are often as dangerous as a loaded gun and can cause serious injuries in the blink of an eye."
The two attorneys of the S & S Legal Group have been representing victims of dog attacks for more than 30 years. Over that time they have gathered the following tips for preventing an attack. Soofer says "dogs can be so unpredictable that it makes sense to always err on the side of caution. If the family's own dog inflicts the injury, this is tragic. But if a person is injured by someone else's dog, there may be issues of liability involved that we can analyze. Homeowners or renter's insurance may be a source of compensation for the injuries." And, Salamati adds, "though many dog owners are very responsible, many are not. This is why these tips are so important especially for children."
For each case they take, the attorneys spend a substantial amount of time reviewing the details of the case and listening to the victim's story. Over the years, they have been able to see patterns that often lead to dog bites. Thus, the following tips:

Never approach a dog you don't know. Ask the dog's owner if you can pet the dog. The attorneys say that, quite often, a dog that looks docile may be give no warning before snapping. Or the dog may have a history of aggressive behavior that the owner will tell you about.
Never startle a dog. "Surprising a dog or making quick movements near it can provoke an aggressive reaction. Even the friendliest dog that has never caused any problems can react with its teeth if it is scared or startled," Salamati cautions.
Read the dog's signals. Avoid a dog that looks irritable, tense, angry, or upset. If the dog's tail is not wagging or if they seem to be in a rigid and aggressive stance, stay far away from them. "Sometimes a dog will give no warning but in some cases, a dog will send a message to 'stay away.' Children, especially, should be taught to interpret these signals," Soofer says.
Never leave a dog alone with a child. "Kids and dogs are both unpredictable. One minute they can appear to be best of friends but then the child may hurt or startle the dog or the child may run from the animal which can make the child resemble prey." Salamati advises that a responsible adult always be present when a child is near a dog.
Though dog owners are ultimately responsible for their animal's behavior, potential victims must be proactive. Though Salamati and Soofer will aggressively pursue justice on your behalf if you have suffered in a dog attack, they would rather see the number of tragedies decrease through increased education and proactive prevention.