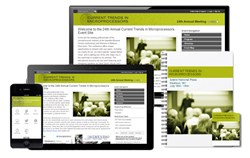 We're excited to be able to move towards digital delivery with our clients. We can still provide that complete solution, as we always have.
Madison, WI (PRWEB) August 01, 2013
Omnipress, provider of educational content solutions for associations, is excited to announce the release of its new EventCMS (Event Content Management System). Best described as "event content made easy," EventCMS is a suite of services that includes a mobile event app for smartphones and tablets, website services, and print.
Omnipress CEO Tracy Gundert explains, "At Omnipress, we have always prided ourselves on being an end-to-end value chain. That used to mean abstract collections (on paper through the mail, early on) to shipping printed programs to the conference location." In recent years, the focus has shifted to digital distribution. Omnipress' dedication to helping customers, though, has continued through the changes the industry has faced.
The EventCMS is an all-in-one event content solution. Using one vendor for a mobile event app, website services, CDs, USBs, and print simplifies an event planner's day-to-day tasks. Steve Manicor, Vice President of Business Development, says, "We help associations deliver content in many different formats, on many different devices, which allows them to give their members exactly what they want. This helps reduce costs and enables teams to focus on mission-critical objectives."
Event content has always had a shelf life of just a few weeks. In order to better leverage the content created for an event, extending its strategic value, the ability to offer continued access to session handouts, speaker bios, program listings, and attendee directories is critical. The mobile app of the EventCMS remains active for a full year. Deliver content through the app and an association website, and the content becomes relevant before, during, and after an event.
"Attendees can plan out their event experience with printed advance programs and a responsively designed website in the months leading up to the event, access their itinerary and session materials through the mobile app while at the event, and after the event, access late content and missed sessions," says Sean Lawler, Product Director. "At the same time, your organization might open up your event content for monetization by selling subscription access to the general public. Whichever tools make the most sense for your users, all of your content is stored in and disseminated by a single EventCMS."
Associations continue to embrace technology and offer online solutions and options to their members. Gundert promises Omnipress will be there to help. "We're excited to be able to move towards digital delivery with our clients. We can still provide that complete solution, as we always have."
For more information, visit Omnipress.com, where you can also subscribe to our Big Ideas Blog, which will feature posts about the new product. Omnipress can also be found on Facebook, Twitter, and LinkedIn.
# # #
About Omnipress
Omnipress helps organizations collect, produce, and deliver educational resources for their members.
Products Include:
-- Digital Publishing Platforms
--Abstract & Speaker Management Systems
--On-Demand Print
--CD and Flash Drive Production
--Order Fulfillment
--eBook Conversion
Our customers rely on us for our 35+ years of dedicated customer-service, vast knowledge of associations and undisputed dependability.