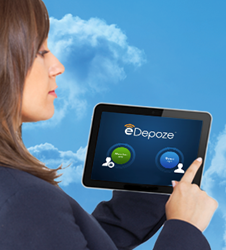 We have not seen this kind of excitement from litigators about an application since the introduction of interactive real-time.
Irvine, CA (PRWEB) August 01, 2013
eDepoze, LLC has added Barkley Court Reporters as a reseller partner for its recently released cloud-based deposition software. The new selling point will provide better access for attorneys who want to utilize the software that enables paperless depositions and electronic sharing of exhibits.
Barkley will be selling the software, which combines a cloud-based repository with an iPad interface to provide an electronic deposition while still maintaining the benefits of the tried-and-true paper deposition exhibit process.
"We are excited that Barkley is an eDepoze reseller," said Shawn Kennedy, CEO of eDepoze. "Barkley is a very technology-forward company, so it came as no surprise that they were one of our earliest adopters."
With eDepoze, attorneys can replace stacks or boxes of paper exhibits with an iPad. They can introduce and share exhibits electronically using the eDepoze app, and everyone participating in the deposition can receive exhibits as they are introduced. This can be done either locally or from a remote location while still allowing all participants to review and mark their own copies of the exhibits.
"Serving the legal community for over 40 years on a global scale, we have not seen this kind of excitement from litigators about an application since the introduction of interactive real-time," said Mason Farmani, CEO and managing partner of Barkley Court Reporters.
The software utilizes an easy-to-use iPad interface that requires little technical know-how. Key features of eDepoze include:

Ability to access documents anytime and anywhere
Ability to attend depositions remotely
Paperless depositions, using electronic documents as exhibits
Instant access to official exhibits at no additional cost
No printing, copying or shipping exhibits
Ability to annotate personal copies of exhibits
Secure, cloud-based environment
Simple-to-use, intuitive iPad interface
To learn more about eDepoze or to schedule a demonstration, please visit eDepoze.com.
About Barkley Court Reporters:
Barkley is the first and only Government Certified Green Court Reporting Firm in the U.S. Fulfilling its commitment, in honor of its clients, a tree is planted for every deposition taken with the firm–over 50,000 to date. With offices throughout California, New York, Chicago, Las Vegas, Paris, Hong Kong and Dubai, Barkley has provided quality service for over 40 years. Barkley provides worldwide court reporting, videography, electronic repositories, videoconferencing, trial preparation and presentation utilizing the latest technology. Barkley Court Reporters' mission is to be the leader in setting the standards of ethics, environmentally responsible practices, professionalism and services for the legal profession.
About eDepoze, LLC:
eDepoze, LLC is a cloud computing company whose flagship product, eDepoze, is a powerful, yet easy-to-use cloud-based deposition software system—with an iPad interface—that delivers the convenience, efficiency and cost-effectiveness of a paperless deposition while mirroring the tried-and-true deposition process that litigators have used for decades. eDepoze, LLC is headquartered in Irvine, California. For more information, please visit eDepoze.com.