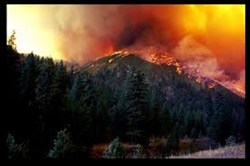 "Our folks have been training since early spring, and preparing for just such challenges, and we look forward to assisting the agencies in the fire suppression efforts across the United States.", stated Deborah Miley, the Exec
Lyons, OR (PRWEB) August 01, 2013
2013 may be the year to remember the great wildfires of the Pacific Northwest Region and NWSA members are on the ground. And unfortunately, another life has been lost on the line today, and as we mourn with the families we continue to hold the lines as the fires rage on.
Included in the current firefighting efforts are over 5000 private firefighters, many are employed by the National Wildfire Suppression Association's member companies. There are additional private firefighters and ground equipment ready to go when called upon, as these work under Call When Needed agreements/contracts.
In the Pacific Northwest alone, over 116,000 acres are ablaze with evacuations under way in some areas with more than 400 homes threatened. With the potential for lightning storms over the next few days it could potentially create an even more dangerous firestorm in the west.
"Our folks have been training since early spring, and preparing their personnel and equipment for just such challenges, and we look forward to assisting the agencies in fire suppression efforts across the United States," stated Deborah Miley, the Executive Director for the National Wildfire Suppression Association. The National Wildfire Suppression Association represents over 250 professional fire service companies that provide resources to the agencies for wildfire and other emergency responses.
The private fire industry has long been in partnership with the federal, state and local agencies as a means to enhance their resources during peak fire season. "We are simply another resource in the agency's tool box available when they need us," Rick Dice, NWSA President.