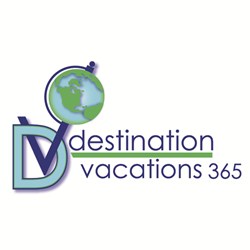 I couldn't be happier with Destination Vacations 365 and their services. The prices are phenomenal, the customer service is absolutely fabulous and my concierge has been nothing but professional when I speak with her.
- Norma-Jean Fitzgerald, Member
Memphis, TN (PRWEB) August 01, 2013
Destination Vacations 365 (DV365) a Memphis, Tennessee based 'members-only' travel club has expanded their marketing campaign to service the entire nation. In addition to being able to service the nation, DV365 has registered with the Seller of Travel Program with the State of California. As a full service travel club, they offer their members deep discounts on hundreds of travel services and vacation packages to nearly anywhere in the world families would like to vacation.
Destination Vacations 365 ensures that you will have a world class travel experience while utilizing their services. Their highly trained team of travel experts can offer discounts on travel packages, cruise packages, restaurant discounts, car rental discounts and so much more! The discounts can range anywhere from 30-70% off retail pricing and these rates are reserved exclusively for their members.
"I couldn't be happier with Destination Vacations 365 and their services. The prices are phenomenal, the customer service is absolutely fabulous and my concierge has been nothing but professional when I speak with her." - Norma-Jean Fitzgerald, Member since June 2012
Many may ask, just how is it that they're able to offer prices so much lower than the normal retail pricing? They have developed a unique and very aggressive marketing strategy that allows them to offer their 'members' steep discounts with all of their vendors.
With the expansion of DV365's operation, they have become one of the top 'members-only' travel clubs in the nation. Their dedicated team of travel industry experts' assist travelers and their families in the organizing, preparing and handling of all their reservations to ensure their trip is exactly what they want. This is truly a world class experience.
About Destination Vacations 365:
For more information on the services they offer or how to become a member of Destination Vacation 365, please visit them on the web at http://www.destinationvacations365.com.