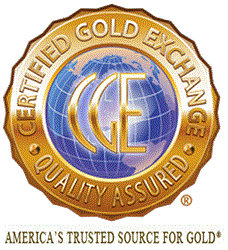 ...in the last few years a lot of new gold companies have popped up and almost as many have disappeared.
Salt Lake City, UT (PRWEB) August 07, 2013
The official Certified Gold Exchange has issued an Investor Alert to clients after news broke on July 30, 2013 that the U.S. Commodities Futures Trading Commission (CFTC) filed charges against a leverage-based gold dealer for allegedly claiming to buy and store gold for clients when in reality clients' funds went to the brokers themselves. Clients who "sold" their financed positions were paid with money that came from newer clients and not from profits realized by selling precious metals, according to the CFTC.
Certified Gold Exchange vice-president of marketing Stewart Lawson emphasized in a press conference on Wednesday that his company does not deal in financed precious metals transactions and that the company charged by the CFTC, not named in the note to clients, was never a competitor of the Certified Gold Exchange.
"We are a market leader for delivery-based gold transactions," Lawson said. "Lots of investors hedge their portfolios with gold because they feel it to be safe, so we encourage clients to pay for the gold up front and take physical delivery if at all possible."
"Gold best serves its purpose when it is a debt-free asset," Lawson continued. "Borrowing money to buy gold just doesn't make sense in our opinion, but if leverage and storage is what you really want then carefully examine many companies' history and reputation online before signing anything, because in the last few years a lot of new gold companies have popped up and almost as many have disappeared."
Certified Gold Exchange, Inc. is one of North America's premier precious metals trading platforms, providing professional service to licensed dealers, institutions, and household investors over the last two decades. Certified Gold Exchange maintains an A+ Better Business Bureau rating and has a five-star rating with Amazon Alexa. For more information or a free "Gold Investor's Guide," visit http://www.certifiedgoldexchange.com or call 1-800-300-0715 today.