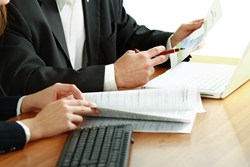 Choosing the right business form can save your company time and money according to Natalie Everaert, VP of Marketing
Miami, FL (PRWEB) August 01, 2013
Companies use custom business forms everyday to cover a wide range of needs. In order to decide what kind of business form is needed, a company should consider where and how the form will be used. A business may need computer forms, where another may need manual forms, yet another will need both. The business will have to consider how important portability, reliability, and convenience are to carry its daily activities.
Portability:
Many companies perform operations outside of an office setting. Manual business forms allow businesses to operate outside of the office while keeping documents uniform and professional. The options for sizing of manual businesses forms make them easy to bring to job sites, trade shows, and on service calls. Unlike computer business forms, manual forms can be made small enough to fit into multiple spaces.
Reliability:
Manual and computer business forms are reliable in different ways. Computer forms allow companies to record information that is legible no matter what an employee's handwriting is like. A business can trust that each form will have the information printed the same for each customer. Manual forms are dependable when used out of the office. Performing transactions or making field reports can be difficult on wireless technology. A manual business form can record drawings and signatures much more easily than a computer form can.
Convenience:
Computer business forms are convenient and easy to use. They require a computer, printer and most often than not, compatible software. Both manual and computer forms allow for carbonless copies to be made. On manual forms, the information written will transfer through to the other copies, while computer forms will require the user to print several copies. Computer forms, on the other hand, will record the information in the software and remain accessible for years to come and visible to multiple users if necessary.
Custom business form printing allows companies to use both computer and manual forms to maintain a professional and cohesive image. Pairing custom printed business forms with portable and convenient tools will keep a business organized so the main focus can be on sales.
Founded in 2003, Smart Resolution is an online printing company that offers complete solutions for small businesses seeking value, convenience and professionalism. With a user friendly website and the latest trends in technology, they aim for a growing number of customers to elect them as the online printing company of their choice.