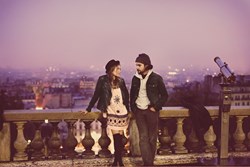 Philadelphia, PA (PRWEB) August 02, 2013
Specialty clothing brand, Free People, will officially launch the third and final installment in their critically acclaimed short film series, 'Roshambo,' today. 'Roshambo' has been met with accolades, recently being announced as the winner of Best Picture, Best Director, and Best Actress at the 2013 La Jolla Fashion Film Festival. The final film in the series, titled 'Roshambo: Paper-Scissors,' is the conclusion of the compelling story of two lovers, played by Christopher Abbott and Sheila Marquez, whose whirlwind romance is complicated by a glamorous French woman, played by actress Ana Girardot.
'Roshambo: Paper-Scissors' Synopsis:
In the previous chapters of the series, we watched as Chris and Sheila, rekindled their romance, and witnessed Sheila's heartbreak after parting ways with Chris. In 'Roshambo: Paper-Scissors,' we saw a parallel night to Sheila's getaway in Rio from the previous film. Chris is staying in Paris, distracting himself with an alluring French woman played by actress, Ana Girardot. Although beautiful and charming, he cannot stop experiencing flashbacks to the true love that he has lost. Sheila's image appears every which way, and his date quickly takes notice. We end where the first film left off and find out what path the lovers take; will they stay together, or will they part ways forever?
Find out how the story concludes and share the film here: http://www.FreePeople.com/Roshambo
CATALOG CREDITS
Model: Sheila Marquez, Ana Girardot, Sabrina Nait, Alba Galocha, Stef Van Der Laan, Christopher Abbott
Photographer: Guy Aroch
Hair: Patrice Delaroche
Makeup: Deanna Hagan
VIDEO CREDITS
Director(s): Guy Aroch and Jonathan Doe
Director of Photography: Carlos Veron
Creative Director(s): Free People and Brody Baker for Starworks
Concept By: Free People
Producer: Starworks Group
Post Production Co: The Mill
Editor: Ryan McKenna
Colorist: Damien Van Der Cruyssen
Producer: Carl Walters
Actors: Christopher Abbott, Ana Girardot, Sheila Marquez, Sabrina Nait, Stef Van Der Laan, Alba Galochas
###
About Free People
Free People is a specialty clothing brand featuring the latest trends and vintage collections for women who live free through fashion, art, music, and travel. The bohemian look consists of quality apparel, shoes, and accessories that invoke attributes of femininity, spirit, and creativity with its design. Free People is distributed globally via direct channels including the Free People Global site and Free People UK site, as well as specialty boutiques, top department stores, and the brand's free standing retail locations in the U.S. and Canada.