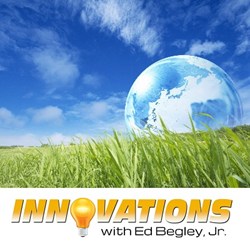 Jupiter, FL (PRWEB) August 07, 2013
Innovations Television, produced by DMG Productions, announced today that they are gathering content for upcoming episodes of Innovations, to air first quarter 2014.
Innovations, hosted by Ed Begley, Jr., is dedicated to defining and exploring today's latest breakthroughs and advancements taking place in all areas of society.
Chad Densen, Production Manager for DMG Productions said, "At the moment, we're gathering content surrounding some of the latest and greatest advancements in sustainability."
Focusing on topics like, green building, biodiesel, wind power and more, Innovations gets up close and personal with the people and organizations dedicated to reducing our dependence on foreign oil and creating a more sustainable future.
"While this show allows us to act collaboratively with multiple industries, currently, one of our key focuses is to gather content regarding sustainability," said Robert Sikich, producer for the series. "With so much importance surrounding the subject, we are excited to enlighten our viewers on the importance of sustainability and to bring knowledge on some of the greatest advancements currently taking place in the industry."
About DMG Productions and Innovations:
DMG Productions is well respected in the community as a content provider and producer of educational television programming. Best known for their award winning medical series, "Health Heroes," the agricultural phenomenon, "American Farmer," and the financial series, "Business Update," DMG is dedicated to enriching the lives of their television viewers.
In 2013, DMG added Innovations to their line-up of educational programming. This comprehensive and compelling series, hosted by Ed Begley Jr., is an information-based series geared toward educating the public on the latest breakthroughs in all areas of society. Featuring practical solutions and important issues facing consumers and professionals alike, Innovations focuses on cutting-edge advancements in everything from health and wellness to global business, renewable energy, and more.
For more information, visit: wwwinnovationstelevision.com or call (866) 496-4065.
Media Contact:
Robert Sikich, Senior Producer / Innovations
(866) 496-4065 x 805 / robert(at)dmgproductions(dot)org