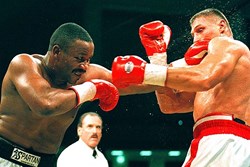 I remember being glued to the television watching these guys fight.
Orlando, FL (PRWEB) August 01, 2013
Sports Titans: reunites 5 of the greatest Heavyweight World Champions of the sport's glory days, including: 'Terrible' Tim Witherspoon, Pinklon 'Pinky' Thomas, Mike 'Hercules' Weaver, James 'Bonecrusher' Smith, and Earnie 'The Black Destroyer' Shavers. The 5 champs will embark on a unique worldwide, all-access, meet and greet tour at boxing events and casinos around the world.
Barter Rewards, the world's fastest growing barter exchange company, has added many new franchises in the last few months and expanded last month to Australia and New Zealand, soon in Mexico and Canada. Tait Carson, Founder of Barter Rewards commented, "Sports Titans has a global appeal with its 5 World Heavyweight Champions and we at Barter Rewards are very excited to be involved in supporting such a great new venture."
Barter Rewards clients are excited about the potential of a new program that will allow members from around the world to spend barter dollars in every country where there is a Barter Rewards office. The new program is rumored to have automatic currency exchange and other features that will make being a Barter Rewards member even more valuable.
Chap Chappell, CEO of Chappell Entertainment in partnership with Sports Titans is very proud to see the project come to fruition, "As a member of the baby boomer generation, I remember being glued to the television watching these guys fight. They were the talk of the town and my childhood heroes. With Sports Titans, we are bringing back the glory days of boxing's finest. We are giving fans the chance to meet one on one with these untouchable giants and to personally hear their tales from the ring."
Thomas R. Reich, Marketing Director of BizCentral USA is coordinating with Barter Rewards to give these Heavyweight legends the send off they deserve. "Using Deep Rich Data, Pinterest and Barter Rewards considerable web exposure, the Sports Titans will be bigger than ever!"
For Sports Titans updates, visit sportstitans.com/.
To chat with the Champs, visit: facebook.com/sportstitans
Barter Rewards can be found at barterrewards.com and/or 407-690-6824.