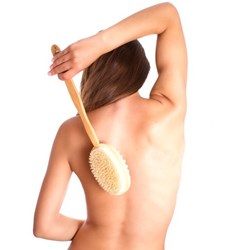 "We want Skin Brushing to become as common as teeth brushing," says Kathy Heshelow of Sublime Beauty. "It is incredibly healthy and easy to practice."
St. Petersburg, FL (PRWEB) August 01, 2013
Skin Brushing is somewhat of a lost art but is making a comeback. Sublime Beauty®, which offers a 6 page how-to report about Skin Brushing and its history, has been leading the charge.
"We want Skin Brushing to become as common as teeth brushing," says Kathy Heshelow, founder of Sublime Beauty. "It brings great benefits, is easy to do and costs less than $20 for the correct tool."
Skin Brushing is the act of brushing absolutely dry skin with natural bristles to remove dead cells and toxins. Brushing is always done in motions towards the heart.
We shed millions of cells per day, but as we age, we lose the ability to rid ourselves of these toxins which can cause problems for other body functions. "The skin is our largest organ and is very important in the elimination of toxins and healthy functioning," says Heshelow. "Cleared skin is not only healthier but looks better."
The top three benefits of Skin Brushing are:
1) Better functioning and quality of our largest organ, the skin.
2) Better blood circulation. Brushing the skin in the direction of the heart is medium strokes helps improve blood circulation, crucial for good health.
3) Boost to the lymphatic system. The lymphatic system does not have a natural pump, and relies on muscle movement, massage or skin brushing to eliminate toxins. A sluggish lymphatic system can lead to disease.
Sublime Beauty® offers a long-handled Skin Brush so that it is easy to reach all body areas; it is made with natural bristles (only use natural bristles to brush the skin.) The 6 page report is sent to purchasers of the brush 24 hours after it ships out, so buyers have a chance to understand the benefits and history.
The company also has a website focused on Skin Brushing for those who want to learn more.