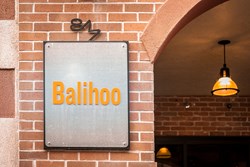 "We passionately believe in giving our employees access and encouragement to lead an active lifestyle, which results in a happier, healthier and more productive team."
Boise, ID (PRWEB) August 01, 2013
Balihoo (http://www.balihoo.com), the premier provider of Local Marketing Automation (LMA) technology and services to national brands with local marketing needs, today was named to Outside Magazine's sixth annual "Best Places to Work" list. Balihoo was ranked No. 50 out of 100 selected companies. The full list of the top-ten-performing small, medium, and large companies will be published online on August 1 at OutsideOnline.com/bestplacestowork.
Outside's "Best Places to Work" project celebrates the innovative companies, setting a new standard for a healthy work-life balance. The list was compiled with the help of the Outdoor Industry Association and Best Companies Group. The yearlong selection process began with an outreach effort that identified a wide range of non-profit and for-profit organizations with at least 15 employees working in an office in the United States. Participating companies were sent confidential employee-satisfaction surveys and employer-questionnaires to collect information about benefits, compensation, policies, job satisfaction, environmental initiatives, and community outreach programs. The experts at the Best Companies Group then analyzed the results and selected the companies that best enable employees to pursue active lifestyles while also supporting their social and environmental contributions.
This year's "Best Places To Work" list will highlight not only the Top 100 companies, but will also spotlight those on the list that offer the best perks, including "Fitness-Friendly" companies, those with the most liberal "Flex Time" policies, the "Best Travel Perks", and those with the "Best Office Culture."
"It's an honor to be recognized by Outside Magazine," said Balihoo CEO Pete Gombert. "We passionately believe in giving our employees access and encouragement to lead an active lifestyle, which results in a happier, healthier and more productive team."
"We're proud to publicize the efforts of these 100 companies," said Outside editor Christopher Keyes. "They each show a real commitment to creating active, healthy work environments and put a premium on innovative benefits. Year after year, Outside's Best Places to Work program demonstrates that America's most successful companies are the ones that consistently promote true work-life balance for their employees."
Beyond the health of the individual, Balihoo also highly values the health of the community as a whole. Balihoo's Pawsitive Project grants each employee 48 hours per year to participate in volunteer activities of their choice. In addition, Balihoo offers a total of $5,000 in grant money each year to be used for employees to engage in volunteer activities – whether they are local or abroad.
Learn more about Balihoo's unique culture here: http://balihoo.com/about/careers/culture.