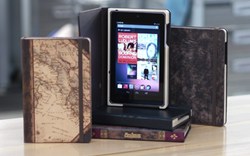 Each case we make is truly custom and made right here in the USA.
St Louis, MO (PRWEB) August 01, 2013
There wasn't much of a wait. Within minutes of Google's announcement of the New Nexus 7 on July 24th, premium handmade tablet and phone case maker, Portenzo, posted on Facebook that they'd be creating their full line of cases for the much-anticipated Android driven New Nexus 7. Sure enough, fans of the fully customizable cases were able to place pre-orders on shop.Portenzo.com the same day.
Portenzo owner and artist, Darin Murray, believes that the New Nexus 7 will prove even more popular with clients than the previous version. "The most popular case for the Nexus 7 has always been the customizable Portenzo Bookcase, but people always go crazy for our hand-aged leather Alano Nexus cases," says Murray, "Many of our Nexus 7 clients are going to the Alano now that they've experienced the Portenzo difference. And I can't think of any reason someone would settle for anything else."
The New Nexus 7 line will include all of the same innovative features as Portenzo's Nexus 10 collection, including IntelliStand, the virtually invisible built-in stand for easy video watching, and MagnaGrip, which streamlines the appearance on the book like cases. "The beauty of Portenzo cases, other than the handmade quality, is the ability to customize your case," notes Murray. "Every one of our book bound cases are unique, from the Alano to the HardBack. Each case we make is truly custom and made right here in the USA to your exact specifications."
New Nexus 7 Cases are available to order now.
Portenzo, the original made-to-order case company and makers of hand-crafted iPhone, iPad, iPad Mini, Nexus 7, Nexus 10 and Kindle cases have been innovating the premium case industry since 2010. Founded by artist Darin Murray, every unique case that leaves Portenzo studios has been meticulously cared for by Portenzo craftsmen from the first cut to the last stitch. Portenzo Cases are proudly made in Saint Louis, Missouri, USA.