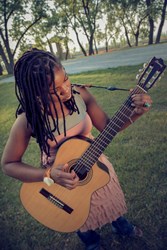 I'm not saying to just let anyone into the windows of your soul, but allow the inner beauty to shine, so no one has to search for who you really are.
Seattle, WA (PRWEB) August 02, 2013
Songstress and Performing Artist Chaquis Maliq recently spoke with Kelly McNelis of Women For One in a heartfelt interview about being authentic, finding inspiration, and creating her newest studio album "Harmonies of Me".
The new album is unique in that Maliq took the lead in both songwriting and production, highlighting her strengths as both an empowered woman and talented artist. Maliq's style draws on an expanse of musical genres including Soul, Jazz and Blues.
The new album inspires listeners to know who they are, what makes them beautiful in a well-rounded way. As such, Maliq is a well rounded artist, having received an award from the National Association for Black Female Executives in Music and Entertainment, and coverage of her performance at the Capital Hip Hop Soul Fest by Nationalgeographic.com.
Maliq's music, "empower[s] us with the words and melodies to move us into a more peaceful place," notes McNelis, Founder of Women For One. "That's why we're honored to feature such a talented artist, and inspiring woman."
Women For One is a global community whose mission is to empower and inspire women of all backgrounds, ages, and ethnicities through dialogue on issues important to ALL women. Maliq's work echoes this mission – every track on "Harmonies of Me" has its own feeling, its own message, and its own purpose.
To find out more about Chaquis Maliq or to listen to select tracks from the album, visit http://www.chaquismaliq.com.
For more information on Women For One, or to tell your story of empowerment and inspiration, visit http://www.womenforone.com.