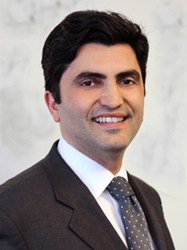 The facial paralysis brought on by Bell's palsy is usually temporary, however, it can linger and effect a patient's self-esteem.
Beverly Hills, CA (PRWEB) August 02, 2013
A study published July 25, 2013 in Annals of Emergency Medicine revealed the results of an analysis of emergency room patient records in California from 2005-2011 to determine whether or not Bell's palsy is being accurately diagnosed in the ER. The study found that out of the 43,979 patients who were given a Bell's palsy diagnosis in the emergency room, only 0.8% were misdiagnosed.
"The onset of Bell's palsy can be quite frightening, as the symptoms closely resemble the symptoms of several life-threatening conditions such as stroke, brain tumor, or brain bleeding. It is crucial that patients with Bell's palsy symptoms are thoroughly examined in the ER to rule out the possibility of a life-threatening condition," explained Babak Azizzadeh, MD, FACS of the Facial Paralysis Institute in Los Angeles.
Bell's palsy is a condition in which there is the sudden onset of unilateral facial paralysis. It is thought that the condition is brought on by a virus and the effects are usually temporary when the patient is treated quickly with antiviral and steroid medication, although any patient whose face does not normalize within 3 months should seek medical attention from a facial paralysis expert to make sure there is no tumor involvement with the facial nerve. The study showed that emergency room doctors are correctly diagnosing Bell's palsy with close to 100% accuracy. During the 6-year period analyzed, only 0.3% of patients were misdiagnosed with Bell's palsy when they actually had a life-threatening condition.
"It is remarkable to see that the symptoms of Bell's palsy are being taken seriously and that doctors across California are taking the appropriate measures to rule out life-threatening conditions before diagnosing Bell's palsy. When Bell's palsy is correctly diagnosed and quickly treated, the prognosis is generally great," said Dr. Azizzadeh.
Dr. Azizzadeh is known around the world for his innovative facial paralysis surgical techniques and track record of success in restoring facial movement in patients suffering from facial palsy. He frequently treats Bell's palsy patients at his Los Angeles practice with Botox to improve facial symmetry.
"The facial paralysis brought on by Bell's palsy is usually temporary, however, it can linger and effect a patient's self-esteem. Botox is a safe and effective way to relieve the symptoms of synkinesis and relax the hyperactive facial muscles, thus restoring a more symmetrical appearance to the face," said Dr. Babak Azizzadeh.
Since his extensive and prestigious training at Harvard Medical School, Dr. Azizzadeh has helped hundreds of people with varying degrees of facial paralysis. Dr. Azizzadeh is the director of the Facial Paralysis Institute and one of the leading figures in the field of Facial Nerve Paralysis. Dr. Azizzadeh has been recognized for his work on several occasions, and has appeared on the Oprah Winfrey Show and countless other media outlets.
Dr. Azizzadeh is trained in Facial Plastic & Reconstructive Surgery, as well as Head & Neck Surgery, giving him a distinctive insight into facial nerve function and facial aesthetics. Dr. Azizzadeh also has extensive training in microsurgical facial reconstruction, which is often required for the treatment of people who are born with facial paralysis.
For more information about treatments for Bell's palsy, please contact Dr. Azizzadeh by calling (310) 657-2203 or visit: http://www.facialparalysisinstitute.com.