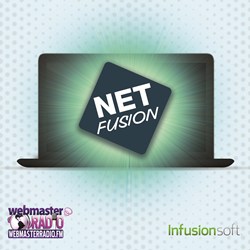 The foundation for every company is sales. Without sales your passion does not become a reality.
Boca Raton, Florida (PRWEB) August 01, 2013
Learning from some of the biggest masterminds in Internet Marketing. WebmasterRadio.FM is proud to premiere Net Fusion (presented by Infusionsoft) Thursday August 1st at 1pmEastern and 10am Pacific.
Why should you make the switch from blogger to Amazon eBook author? How to build an effective nurture campaign from start to finish? How to use Content Marketing to Attract Leads and Customers? These questions and more will be answered in the first 3 episodes of the series.
"The foundation for every company is sales. Without sales your passion does not become a reality," WebmasterRadio.FM President and Co-Founder Brandy Shapiro-Babin said. "Understanding how to maximize growth and minimize the stress in keeping the sales cycle cohesive is the key to success....and the crew at Infusionsoft are experts on how to do just that....each and every month....not to be missed episodes."
Listeners are able to interact with their questions and comments to the host and guests for each interview, as well as all live WebmasterRadio.FM programming, by following us on Twitter (@webmasterradio), Facebook, LinkedIn, Google+ and our live real-time interactive chatroom. Links to our respective social media pages and our chatroom can be found on our home page.
New episodes of Net Fusion air Thursdays at 1PM Eastern / 10AM Pacific on WebmasterRadio.FM or on demand in the WebmasterRadio.FM archives inside the Internet Marketing Channel or through iTunes, Stitcher, Zune Marketplace and the WebmasterRadio.FM Mobile Application for iOS and Android Smartphone devices.
About WebmasterRadio.FM
WebmasterRadio.FM lifts the "veiled curtain" of the Internet, bringing the business community together through an interactive radio network. Its listeners are a global group, comprised of everyone from corporate executives and decision makers to small and mid-sized businesses and individual entrepreneurs.
WebmasterRadio.FM's stellar line-up of radio programming includes; "Market Edge" with Digital Influence Group Chairman Glenn Engler , "Purse Strings" with Carmichael Lynch Spong senior principal Maria Reitan and the "CyberLaw and Business Report with Internet Law Center Founder Bennet Kelley.
To tune into WebmasterRadio.FM's live content or check out the show lineup, please visit http://www.WebmasterRadio.FM. All WebmasterRadio.FM programs are available in podcast format through all major podcast portals (such as iTunes, TuneIn, Stitcher and Zune Marketplace), as well in archived format on-demand through our proprietary mobile application for iOS and Android smartphone devices.
Media Contact:
Brandy Shapiro-Babin
954-309-5578
About InfusionSoft
InfusionSoft provides an all-in-one sales and marketing software for small businesses. Its Web-based solution helps small businesses automatically market to get more customers, grow sales and save time. The privately held, six-time Inc. 500/5000 company is based in Chandler, Ariz. and is funded by Goldman Sachs, Mohr Davidow Ventures and Signal Peak Ventures. For more information, visit http://www.infusionsoft.com