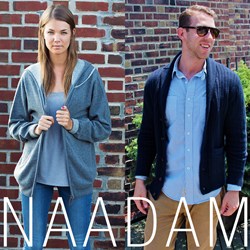 Naadam Cashmere is a brand that embraces technology and stands for innovation, change and a generation of people who are resourceful, adaptive and aware.
NEW YORK, NEW YORK (PRWEB) August 01, 2013
Naadam Cashmere and Mimoona, which developed a unique crowdvoting tool, have teamed up to revolutionize the way the fashion industry does business. Blending concepts from Kickstarter, Groupon and Gilt Groupe, this next generation form of crowdvoting will, for the first time ever, put the production of garments into the hands of the everyday consumer to take part in the process, while enabling fashion brands to forecast demand for their products.
Naadam Cashmere is a brand that embraces technology and stands for innovation, change and a generation of people who are resourceful, adaptive and aware. And now they have just launched this innovative crowdvoting platform on their website. In their mission to be socially conscious and to inspire consumers to be conscious of the products they own, Naadam is not only already giving 10 percent of their revenue back to the nomadic Mongolian herders that provide the cashmere, but they will be also giving the consumer the power to decide whether or not these garments get made. With this power, the potential buyer will back the project; however, the garment will not be produced until 100 other people back the project as well.
Through the power of social media and shopping gamification the users can request a unique URL to be shared through social networks, that will allow the backer to accumulate points to get up to a 100 percent discount. Naadam's social currency system allows consumers to get up to 60 percent discount for the amount of clicks they get on the shared URL or a completely free one if another 5 people back a Naadam Cashmere garment through the same shared link.
Naadam will be running this initial campaign for just over a month with two of its top seller garments: the Burns Rib Cardigan and the Campbell Zip Hoodie, which has been recently spotted on the young hollywood actor Ansel Elgort during Comic-Con Week in San Diego. Both versatile and unisex garments are made with pure, 100% Mongolian 2-ply cashmere can be backed for a limited time at http://www.shopping.naadamcashmere.com.
"The pieces are understated but incredibly creative and detailed. The style thrives on knit, pattern, and feel. Contemporary, innovative design, and superior quality cashmere sourced from those same herders we support in the outer planes of Mongolia, distinguishes Naadam from anything else out there. How you feel is just as important as how you look!" said Naadam CEO and co-founder Matthew Scanlan.
Mimoona has perfected the concept of crowdvoting and has tailored it to be brand specific so that any brand can forecast demand for its designers before production. This innovative distribution model was developed to bypass pre-production and post-production risks such as having enough capital for a production run or inventory risks and to only produce garments that the consumers want; through this consumers will now have access to these unique generational luxury cashmere garments at unheard market prices or even at no cost.
About Naadam Cashmere:
Designed in New York City and manufactured locally in Mongolia using 100% Mongolian cashmere, Naadam supports Mongolia's nomadic goat herders—the source of the majority of the world's finest cashmere—by investing a portion of profits in a World Bank-sponsored program that insures the herders' livestock as climate change and worsening economic conditions make it increasingly difficult for them to support themselves. When you buy Naadam, you are buying more than a luxury item—you are supporting local traditions, values, and families. Naadam is doing luxury differently!