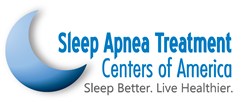 Tampa, Florida (PRWEB) August 01, 2013
It has been nearly two years since Sleep Apnea Treatment Centers of America (SATCOA) was conceptualized by Georgia Ear, Nose, and Throat specialist Dr. Jeffrey L. Silveira. After opening its doors and moving its headquarters from Georgia to downtown Tampa, FL in late 2012, the concept has seen explosive growth expanding to six treatment facilities located throughout Florida, Georgia, and Texas since January 2013. "Our goal when we created Sleep Apnea Treatment Centers of America was to provide a safe, in-office, alternative treatment for those suffering from obstructive sleep apnea," said Founder and CEO Dr. Jeffrey L. Silveira. "Obstructive sleep apnea is one of the fastest growing health epidemics with close to 80 percent of the 18 million Americans suffering undiagnosed."
Sleep Apnea Treatment Centers of America partners with local physicians to provide the residents of their respective communities' access to SATCOA's radiofrequency ablation of the tongue procedure, the minimally invasive treatment that has been shown to cure close to 72% of mild sleep apnea patients.
"Sleep Apnea Treatment Centers of America has plans to expand and open locations in New York, California, Colorado, Oklahoma, Ohio, Pennsylvania, and New Jersey over the next year," said David M. Williams Director of Business Development.
About Sleep Apnea Treatment Centers of America:
Sleep Apnea Treatment Centers of America was founded for the sole purpose of providing superior sleep solutions for our patients to improve their overall quality of life. We seek to gain a thorough understanding of each patient's sleep disorder and individual medical needs in order to provide the best care and treatment solutions available to effectively treat their sleep condition. We offer a unique and comprehensive form of sleep apnea treatment that effectively seeks to cure sleep apnea over the course of an average of 6 treatments. Having the ability to significantly impact our patients' lives for the better through improved sleep and minimizing health risks is something that we take great pride in. Please take a look at what our patients are saying and view some of our Sleep Apnea success stories. Sleep Apnea Treatment Centers of America is committed to providing superior patient care and treatment options.