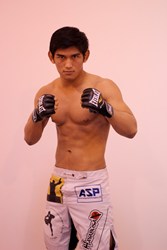 "We've taken the weak points and made them strong by diversifying his training and creating a strong game plan."

- Julius Park, Head Instructor
Baltimore, MD (PRWEB) August 02, 2013
Baltimore MMA fighter, Aung La "The Burmese Python" N Sang of Crazy 88, will be fighting on the August 17 card of CFFC 26 at the Borgata Hotel and Casino in Atlantic City.
Cage Fury Fighting Championships (CFFC) is a mixed martial arts promotion based in Atlantic City, New Jersey. Their promotions focus on the east coast and showcase the Professional MMA talent of that area.
The production serves as an entry to larger promotions. Former and current Ultimate Fighting Championship (UFC) fighters Jim Miller and Dan Miller both started their MMA careers with CFFC. Cards such as the upcoming one that N Sang will be fighting on can be the big break that fighters look for.
N Sang has been fighting professionally for 8 years and is a Muay Thai Instructor at Crazy 88 Brazilian Jiu-Jitsu. He is originally from Burma and a Kachin refugee. A portion of each of his winnings he donates to Kachin refugee relief efforts.
Aung La will be heading into the CFFC 26 card with a winning 14-8 record. He has been in an intense fight camp for the last 8 weeks including supplementing his training with various styles.
Julius Park, Head Instructor said, "He is well prepared for his upcoming fight. We carefully analyzed his past fights to find where he was weak." Park also said, "We've taken those weak points and made them strong by diversifying his training and creating a strong game plan."
Aung La "The Burmese Python" N Sang will face Shedrick Goodridge on August 17.
To find out more about Aung La N Sang and other events at Crazy 88 visit us at http://www.Crazy88BJJ.com or call (443) 283-1450.