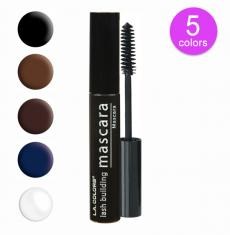 Eye makeup has come a long way in the last decade.
Los Angeles, CA (PRWEB) August 04, 2013
Lady de Cosmetic, a massive online makeup store has recently added to its inventory of eye makeup, by introducing L.A. Colors mascara. The long wearing, clump resistant, lash lengthening eye makeup is now available in 5 new shades. The new mascara joins the already popular line of Cameo Girl mascaras sold by the online cosmetic retailer.
As a discount retailer for makeup brushes, makeup sets, glitter gels, nail polishes, lipsticks, glosses and more, Lady de Cosmetic is currently focused on expanding their eye makeup inventory to attract and retain customers who capitalize on the discounted prices of cosmetics offered by Lady de Cosmetic. The company aims to make eye makeup shopping online inexpensive and quick, so that customers can order high quality makeup they need in just minutes.
Available in black, black-brown, brown, navy blue and clear; L.A. Colors mascara is sold through the online retailer for a fraction of department store prices, and is priced substantially less than mascara sold through drug stores or full-service cosmetic retail stores. The new L.A. Colors mascara options are water resistant and formulated to thicken the appearance of lashes.
According to Daniel D., General Manager of Lady de Cosmetic, "Eye makeup has come a long way in the last decade. The science behind the new and emerging mascara formulas, such as those used in L.A. Colors, ensures that makeup that is applied before work in the morning is still looking great by the end of the day." Like all cosmetics offered by Lady de Cosmetic, L.A. Colors mascara is of "premium quality," Mr. D. adds.
L.A. Colors mascara is the newest addition to the rapidly growing online retailer's line of eye makeup which includes liquid eyeliners, pencil eyeliners, glitter eyeliners, eyebrow kits, eyeshadows, pencil sharpeners, professional application brushes, and false eyelashes.