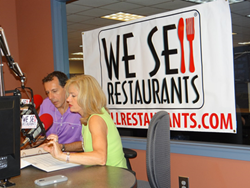 Satisfy your Appetite for Acquisition, Feed the Need for Restaurant Reality & Serve up a Recipe for Business Success
(PRWEB) August 01, 2013
We Sell Restaurant's radio show will air every Saturday at noon on AM Talk 920 in Atlanta Georgia. Restaurant brokers, Robin and Eric Gagnon will discuss trending restaurant topics along with special guests ranging from restaurant-chain CEOs to celebrity chefs to entrepreneurs. The show is also available on demand from iTunes and YouTube.
The show is geared towards a national audience and is set to target individuals in the restaurant business including would-be restaurant owners, investors, and foodies. The inaugural show which airs August 3 features Guidant Financial CEO, David Nilssen, Foodstart.com founder Alex Sheshunoff and BB&T Vice President, Syliva Shiverdecker and focuses on Financing a Restaurant Purchase.
"We are excited to partner with We Sell Restaurants on this new venture," said Program Director for Talk 920, Aaron Williams. "The metro Atlanta area has one of the most thriving restaurant scenes in the country, and we are looking forward to hearing more about the business side of the food industry."
Each show's final segment, "Restaurant Reality" will tackle "tough" topics in the industry that "no one wants to talk about." The hosts will share their experiences in selling restaurants and offer solutions on how to overcome obstacles in the restaurant industry.
The show hosts are Eric and Robin Gagnon, industry experts and veteran restaurant brokers. The husband and wife team are founders of We Sell Restaurants, the nation's largest restaurant brokerage firm. They are co-authors of Appetite for Acquisition, a book on buying restaurants that was named best of 2012 by Small Business Book Awards.
"Our radio show will Satisfy your Appetite for Acquisition, Feed the need for Restaurant Reality, and Serve up a Recipe for Business Success," says Eric Gagnon. "At the same time, we're willing to take on the nation's toughest industry in our reality segment" says Robin Gagnon. "We're not afraid of the four letter words in the business – the f-word 'Fail' and the s-word 'Sell.'
About We Sell Restaurants
We Sell Restaurants is the industry leader in restaurants for sale, franchise restaurant resales and site location for the food service industry. The firm sets the standard for restaurant brokerage nationwide with a focus on knowledge, professionalism and unmatched service. The firm's hundreds of listings can be viewed online at http://www.wesellrestaurants.com along with expert articles and information.
Founders and Restaurant Brokers, Eric and Robin Gagnon are industry experts and authors of Appetite for Acquisition described in the business as the "definitive guide for anyone looking to enter the restaurant industry." They have each sold hundreds of restaurants.