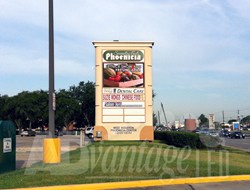 Compared to traditional billboards and other non-animated advertising methods, our LED displays draw greater attention.
Houston, TX (PRWEB) August 02, 2013
ADvantage LED recently announced the completion of a retail LED sign display for a local Houston specialty grocery store. Phoenicia Foods recently purchased a new LED Sign, a 6'-11 5/8" x 11'-2" 8mm iPixel Full Color 256x416 iMatrix Double Face Display in Houston, Texas to increase traffic and exposure for their business. The LED sign displays store specials and hours of operation, as well as other advertisements of interest to the community.
Through an array of international contacts, Phoenicia Specialty Foods offers the public a selection in excess of 15,000 imported products from more than 50 countries. Their inventory includes fresh baked artisan breads, European pastries, boutique wines and beers, fresh, high quality meats, cheeses and seafood, hot grille items, exotic produce, and a variety of housewares. They recognized a need for expanding their marketing techniques to draw in more customers, and they turned to ADvantage LED for the answer.
Richard James of ADvantage LED stated, "Our clients in the retail industry use these signs for promotional purposes, displaying product or service offerings, business hours, community events and community service announcements. The signs we offer have been proven to be a great investment and provide our clients with high returns. They allow them to capitalize on impulse buyers by more readily catching the eye of drive by traffic and bringing in more customers. For this project, the services we rendered were LED sign manufacturing, complete sign installation, content creation services, comprehensive software training and technical support."
James continued, "Compared to traditional billboards and other non-animated advertising methods, our LED displays draw greater attention and create a more lasting impression on viewers. Available in both gray-scale and full color high definition, our easily programmable displays enable our clients to increase their customer base by effectively communicating their messages to the public."
Peter Basralian, administrator and controller at Phoenicia Foods, claims, "Our new ADvantage LED sign is wonderful. It provides a good quality, excellent resolution display." During an interview he mentioned, "I really appreciated the company participation from ADvantage in providing our team with the exact training that they needed to program the sign accurately and efficiently, as well as attractive advertisements for the LED display."
Regarding the SM Infinity™ software that controls the LED display, Peter stated, "It is simply comprehensive, intuitive and offers ease of operation." Peter and the rest of Phoenicia are, overall, very pleased with their ADvantage LED Sign. They intend to use the display to improve store recognition by traffic and to create a new presence with drive by traffic, versus drive in traffic. Concluding the interview, Peter said he would absolutely recommend ADvantage to others.
About ADvantage LED Signs:
Established in 2009, ADvantage LED Signs manufactures LED signs and billboards, selling direct to organizations and businesses nationwide. ADvantage LED Signs offers total turn-key solutions, stating that no job is too big or too small for their company. An A+ Better Business Bureau accredited company, ADvantage LED Signs has become known for their expertise and quality, unmatched by others in the industry. Signs provided include restaurant, retail, medical office, car wash, government and more, both in full and single color.