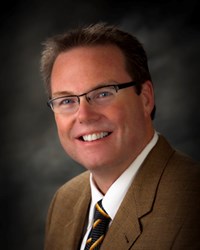 Dr. Beals' rich journey with Vanguard is evidence of his ability and willingness to serve its constituents in the highest capacity
Orange, CA (PRWEB) August 01, 2013
Vanguard University announced today that Michael Beals, PhD has been named the new president of Vanguard University. Dr. Beals is the tenth president since the institution of Christian higher education's inception in 1920.
Dr. Beals steps into the presidency as no stranger to Vanguard University; as a two-time alumnus, he has also served Vanguard University as a faculty member and most recently, administrator, where he currently serves as dean of spiritual formation.
"The journey of identifying the tenth president of Vanguard University was one that required the entire Vanguard University community to exercise patience and trust in each other and in the process itself," says David Oddo, chair of the Board of Trustees and chair of the Presidential Search Committee for Vanguard. "Dr. Beals' rich journey with Vanguard is evidence of his ability and willingness to serve its constituents in the highest capacity. Under Dr. Beals' leadership, I have no doubt that Vanguard University will continue to grow as a leader in Christian higher education."
Education
After he received a bachelor of arts (BA) from Vanguard University in religion and psychology in 1981, Dr. Beals earned a Master of Arts (MA) from Vanguard University in church leadership in 1989, and a second MA at Fuller Theological Seminary in biblical studies and theology in 1994. Dr. Beals earned a PhD in Christian ethics from Fuller Theological Seminary in 2002.
Teaching experience
Dr. Beals began teaching at Vanguard University as an adjunct faculty member in 1991 and became an assistant professor of philosophical theology and Christian ethics in 2005. Dr. Beals has served as an adjunct faculty member at Fuller Theological Seminary since 1999.
Leadership and service
Dr. Beals has served for 23 years as the senior pastor of Mission Hills Community Church in Rancho Santa Margarita and has held roles as youth pastor and education pastor in ministry. In addition, Dr. Beals has been actively involved in global outreach in Kenya, South Africa, Namibia, Cuba, Guatemala, Mexico, China, Israel, Switzerland, France, England, and Scotland.
"When I hire people for leadership roles, I always look for three qualities which I refer to as the three C's: competence, chemistry, and character," says Rick Francis, assistant city manager for the City of Costa Mesa and Presidential Search Committee member. During this extensive search process, it became evident to me that Dr. Beals possesses all three of these qualities in abundance. As an alumnus of Vanguard University, I look forward to watching someone who has been active in the development of this fine institution over the past 36 years take it to even newer heights."
Dr. Beals will commence as the tenth president of Vanguard University on August 1, 2013.
For updated information on the transition, including frequently asked questions and more, visit http://president.vanguard.edu/10thprez.
###
ABOUT VANGUARD UNIVERSITY
Vanguard University (VU) is a regionally ranked, private, Christian university of liberal arts and professional studies. Located ten minutes from Newport Beach and an hour from Los Angeles, Vanguard equips students for a Spirit-empowered life of Christ-focused leadership and service. Vanguard is committed to academic excellence, boasting small class sizes that are designed to cultivate lasting professor-mentor relationships that enhance the learning process. Ranked annually by U.S. News & World Report as one of the top 10 colleges in the west since 2010, Accredited by the Western Association of Schools and Colleges (WASC), Vanguard offers more than 30 degrees and certificates through its undergraduate, graduate, and professional studies programs.