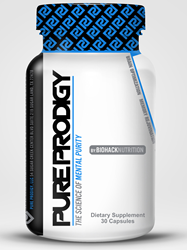 We were looking for the best nootropics for brain enhancement, and when we saw some of the studies that had been done on Vinpocetine and Huperzine A, we knew those had to be in our formula
Houston, Texas (PRWEB) August 02, 2013
As details continue to emerge about the soon-to-be-released Pure Prodigy, the potential benefits of the nootropics in this supplement are becoming more clear. Pure Prodigy contains a blend of ingredients to support cognitive enhancement, including two key ingredients that have shown potential as treatments for Alzheimer's disease and dementia – Vinpocetine and Huperzine A.
"We put an extensive amount of research into developing Pure Prodigy. We were looking for the best nootropics for brain enhancement, and when we saw some of the studies that had been done on Vinpocetine and Huperzine A, we knew those had to be in our formula," said Jonathan Weisman, Founder of Biohack Nutrition, the manufacturer of Pure Prodigy. "Researchers have known for decades that these two supplements each have potential as a dementia supplement."
In one study titled "Efficacy and tolerance of vinpocetine in ambulant patients suffering from mild to moderate organic psychosyndromes" that dates back to Spring 1991, researchers found that Vinpocetine provided a significant benefit in the treatment group which consisted of 203 individuals with mild to moderate dementia.
"There have been several studies over the years showing the vast benefits of Vinpocetine, and we truly believe it will play a key role in Pure Prodigy helping people get their youth back," said Weisman.
Huperzine A, another featured ingredient in Pure Prodigy, has also shown indications that it could be an effective treatment for Alzheimer's disease. In one double-blind, placebo-controlled study of 103 people with Alzheimer's, about 60% of the treated individuals had improvements in memory, thinking, and behavioral functions (http://www.ncbi.nlm.nih.gov/pubmed/8701750, Sep 1995).
"We've seen a lot of different scientific studies and anecdotal evidence that suggests Huperzine A can help individuals suffering from Alzheimer's. In fact, Huperzine A has properties similar to cholinesterase inhibitors that increase neurotransmitter levels in the brain, meaning it can help increase memory and protect nerve cells," said Weisman.
Pure Prodigy is scheduled to be released later this summer. More details are expected to be released in the coming weeks about the supplement's ingredients, uses, actual release date, and more. Learn more at http://www.PureProdigy.com.