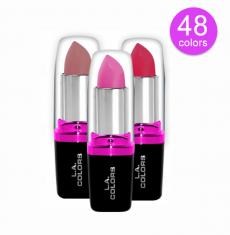 There is a lip color in this incredible line that will complement every skin tone.
Los Angeles, CA (PRWEB) August 05, 2013
Lady de Cosmetic, the premier online discount cosmetics retailer, has once again expanded their already extensive inventory of cosmetics by adding a new line of lipstick from L.A. Colors. Available in 48 unique lip colors, L.A. Colors Hydrating Lipstick is enriched with Vitamin E to promote hydration. "The new Hydrating Lipstick is long lasting and helps to saturate the lips with Vitamin E, which is crucial to prevent drying," says Daniel D., General Manager of Lady de Cosmetic. "These lipsticks absolutely live up to their name," he adds.
The L.A. Colors Hydrating Lipsticks now being offered by Lady de Cosmetic are available in dozens of shades, ranging from light pinks, to bright reds, to deep burgundy, and everything in between. "There is a lip color in this incredible line that will complement every skin tone," Mr. D. says. A few of the new lip colors offered in the Hydrating line include "Goddess," "Radiant" and "Rebel."
Lady de Cosmetic has added hundreds of products by L.A. Colors and other wholesalers in recent months in order to assure that the online retailer has the variety that customers demand. Moreover, the company is steadfastly committed to offering premium cosmetics at prices designed to fit any budget. "Our only objective is to make high quality makeup products accessible and affordable from one's computer," Mr. D. says.
Lady de Cosmetic is able to provide discounts on lip colors and other items due to its long standing relationships with wholesalers and manufacturers. "We buy in quantity at the lowest prices available so that we can then translate our savings into savings for our growing fan base," Mr. D. continues.
The company intends to release at least several new products per month for the remainder of 2013, and is currently in the midst of a huge expansion in the weeks leading up to the start of the 2013-2014 school year.