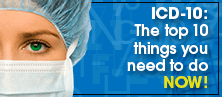 Plano, TX (PRWEB) August 02, 2013
The medical billing firm MediGain is now offering a new e-book, ICD-10: The Top 10 Things You Need To Do NOW, to help healthcare providers get ready for the implementation of the new ICD-10 code starting October 1, 2014. The e-book is designed to give healthcare providers a starting point for becoming compliant with the government mandate.
Before the ICD-10 code goes into effect, all providers will need to update their internal systems and reassess their budgets. In addition, they will have to train and test their compatibility with the new code. For this reason MediGain suggests organizations begin preparing now. Its new e-book lists the Top 10 things a practice can do now to begin being prepared. It also poses specific questions that must be answered long before the conversion is completed:
*Is your staff ready for their jobs to become more complicated?
*Are your vendors ready to support you?
*Are your systems and software ready?
As MediGain's Vice President of Marketing, Clint Hughes explains, "Becoming compliant is going to be no small task because these new codes are much more specific than ICD-9."
ICD codes are used to report medical diagnoses and inpatient procedures. They are developed by the World Health Organization (WHO) in response to recent advances in medical technology and knowledge. As a result, the new upgrade contains approximately nine times as many codes as the previous one. "Yes, ICD-10 is intimidating, but it will only be overwhelming if you are not prepared," says Hughes. The transition to ICD-10 is required for everyone covered by the Health Insurance Portability Accountability Act (HIPAA).
The new e-book ICD-10: The Top 10 Things You Should Do Now can be found here.
About MediGain
MediGain offers a variety of services for U.S. physicians including revenue cycle analytics and automation software, consulting and full-service billing and reimbursements. MediGain provides solutions for physician groups, provider networks, ambulatory surgery centers and hospitals, enabling them to reach their maximum potential through improved operational, financial and clinical outcomes.