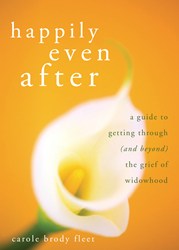 (PRWEB) August 01, 2013
When Carole Brody Fleet lost her husband at age forty, there were no resources that spoke directly to her needs as a young widow. The books she turned to spoke only about grief, but Carole knew that focusing on grief was going to keep her in a place of sorrow. Twelve years later, she is the Founder and CEO of Widows Wear Stilettos, Inc., a non-profit organization and website founded in 2006 and devoted to service. Carole's brand is a recognized imprimatur of quality and trust among grief counselors, therapists and widows themselves.
Carole presents her sage advice in her column on Huffington Post, one of the most widely read on the whole website. In her most recent article, "Finding The Love Of Your NEW Life: You Can Do It If You Choose It," she discusses finding love after loss and how to decide when the right time to start dating again is.
"Whether you are widowed or divorced, you can find love again. You can enjoy the companionship of another once again; even if you choose to remain unmarried. You can love again. You can do away with the excuses and the negativity; whether it is coming from those who surround you or from within yourself. Rather than simply accept the circumstances that have been handed to you—whatever those circumstances may be—you actually can control, design and live the life you choose to live."
—Carole Brody Fleet
Carole will be interviewed on "Real Life with Lisa Jesswein" on August 29th, so tune in to hear more life-improving advice.
Happily Even After
A Guide to Getting Through (and Beyond) the Grief of Widowhood
By Carole Brody Fleet
A Compassionate and Comprehensive Guide for Anyone Who Has Lost a Spouse or Life Partner. Happily Even After is also available as an audiobook.