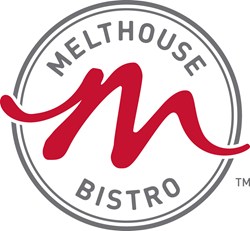 It was our customers who first requested online ordering and delivery and they are thrilled that we have it
Milwaukee, WI (PRWEB) August 01, 2013
For nearly two years, Melthouse Bistro has been serving up chef-inspired gourmet grilled cheese sandwiches to Milwaukee's East Side neighborhood. They have now launched online ordering and bicycle delivery service to better meet the needs of the Milwaukee area diners. "It was our customers who first requested online ordering and delivery and they are thrilled that we have it," said Melthouse Bistro Co-Owner Susan Davis. "We know our guests live extremely busy lives and by adding online ordering and bicycle delivery, we are connecting with them in the ways in which they want to enjoy the Melthouse Bistro experience."
To order food online, guests simply have to visit melthousebistro.com , and then click on the "Order Online" tab to go directly to the online ordering menu. Once there, guests can choose from a bevy of gourmet grilled cheese sandwiches, including incredible egg-based Milwaukee weekend brunch options served every Saturday and Sunday. In addition to mouth-watering sandwiches, Melthouse Bistro offers an array of salads, sides, desserts and drinks for lunch or dinner.
For delivery, Melthouse Bistro is pleased to have partnered with Flavor Cycle, which offers on demand bicycle delivery serving Milwaukee's East Side, Riverwest, Downtown and Third Ward neighborhoods. Bicycle delivery is a mode of transportation that has strong appeal to Milwaukee's environmentally-conscious community.
"Melthouse Bistro has successfully turned grilled cheese into a gourmet delicacy and has quickly become one of Milwaukee's favorite sandwich spots," said Flavor Cycle Owner, Peter DiAntoni. "We are pleased to add such a high quality eatery to our roster of locally owned restaurants."
The delivery service is simple. Customers place their orders online at melthousebistro.com or by calling Melthouse Bistro directly at (414) 271.MELT (6358) — there is a $3.00 delivery fee —Melthouse Bistro calls Flavor Cycle to handle the delivery. A cyclist delivers the food within 30 - 45 minutes. "Our goal is to provide fast and valuable service for Melthouse Bistro diners," DiAntoni says. "People are often astounded by how quickly you can get somewhere on a bicycle in Milwaukee. There's no parking or traffic hassles to deal with." Melthouse Bistro will offer bicycle delivery everyday from 11:30 am — 9:30 pm.
About Melthouse Bistro
Melthouse Bistro is an innovative new fast-casual Milwaukee restaurant that offers an ever-evolving selection of hand-crafted, gourmet grilled cheese sandwiches that are unique and appetizing. These gourmet flavor combinations feature Wisconsin cheese, thick-sliced European-style artisan breads, and fresh all-natural ingredients. We celebrate your love affair with cheese with an approachable culinary dining experience that is smart, warm and inviting. To learn more visit http://www.melthousebistro.com or call the restaurant at 414.271.MELT (6358).
Media Contact:
Troy Davis
Co-Owner
troy.davis(at)melthousebistro(dot)com
608.213.7691 (US/International)