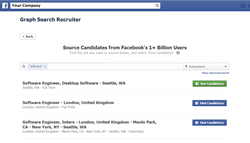 Graph Search is particularly relevant for the recruitment industry because it turns Facebook into a sourcing tool unlike any other by allowing recruiters to highly target their search.
San Francisco, CA (PRWEB) August 01, 2013
Just weeks after Facebook officially released its ground-breaking Graph Search to all users, Work4, the #1 Facebook Recruiting Solution, releases Graph Search Recruiter Beta, a new product that leverages Graph Search to help recruiters find the best candidates on Facebook.
Facebook's Graph Search is a powerful search engine for all of Facebook's data. It allows users to search for people, places, likes and interests, workplaces, and schools within their own networks. Access to this data can be a gold mine for companies looking to source candidates--especially passive candidates--while facing an increasingly competitive hiring market.
Graph Search is particularly relevant for the recruitment industry because it turns Facebook into a sourcing tool unlike any other by allowing recruiters to highly target their search with criteria such as job title, location, skill sets, education, work history, and more. This search can be applied to the recruiter's own network as well as the entire Facebook network.
"Work4's release of Graph Search Recruiter marks yet another turning point for social recruiting," said Work4 CEO Stéphane Le Viet. "We are thrilled to make Facebook's latest innovations accessible to global clients who are using the platform to recruit across all industries, and we look forward to continuing to bring the age of Facebook recruiting into its own."
Graph Search, and Work4's Graph Search Recruiter Beta, gives recruiters unprecedented access to a range of potential candidates. While millions of professionals may be found on professional networks like LinkedIn, Graph Search and Facebook grant recruiters access to a much bigger and more diverse audience. Among its billion members, Facebook comprises millions of professionals, many of whom also have LinkedIn accounts, in addition to millions of other users across trades and pay grades who choose to connect with friends, family, businesses and brands on the Facebook platform. Facebook's reach, combined with Graph Search's specificity, allows recruiters to fill their toughest hiring initiatives and locate those hard-to-find candidates both locally and globally.
The beta version of this solution connects a company's career site to Graph Search and uses Work4's proprietary matching technology to create optimized, natural-language searches for recruiters' existing job descriptions in a single click. For example, recruiters can search for "people who worked as Software Engineers in San Francisco, California this year in order to fill a local engineering role. Options for search terms will be expanded following the official launch of Graph Search Recruiter later this fall.
Graph Search Recruiter is the second of Work4's recently released solutions aimed at the fast-growing social recruitment market. By adapting Graph Search for recruitment so quickly, Work4 further solidifies its position as the market-leading innovator in social recruiting. Work4's thousands of customers, including 60+ of the Fortune 500, now have an additional solution for optimizing their recruitment efforts on the world's largest social network.
Graph Search Recruiter will officially launch later this fall. To learn more, and to gain exclusive access to Graph Search Recruiter when it is released this fall, please click here.
ABOUT WORK4
Work4 powers social recruiting by making everyone a recruiter and everyone a candidate. 
We help thousands of companies, including many of the Fortune 500, find, engage, and hire top talent with our all-in-one recruiting solution for Facebook. Work4 allows employers to reach candidates through a Facebook Career Site and on mobile devices, take advantage social networks to drive employee referrals, and target Facebook's 1 billion users with intelligent recruiting ads. Work4 brings cost-effective, efficient sourcing and hiring to the world's top companies by leveraging the reach and scope of the world's largest and most powerful social network. 
Established in 2010 and backed by top tier investors such as Matrix Partners and Yuri Milner, Work4 has offices in San Francisco and Paris. For more information, please visit our website (http://www.work4labs.com), Facebook Page (http://www.facebook.com/work4labs), or Twitter account (@work4labs).