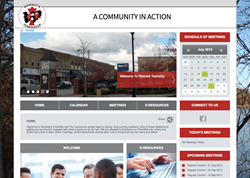 This powerful resource will enhance Council communications making Warwick Township more open, transparent and accessible for the public
Warwick Township, Ontario (PRWEB) August 01, 2013
Warwick Township, in partnership with iCompass Technologies, is excited to announce the release of CivicWeb: the community of four thousand's new Council Portal. CivicWeb will increase transparency and ensure the important decisions made by Warwick Township Council are more easily accessible for the public. This automated open government web portal is linked to Warwick Township's website (warwicktownship.ca) ensuring everyone in the community has access to timely updates from Council 24/7.
Warwick Township's CivicWeb Council Portal is the community's new home for meeting agendas, minutes, bylaws, and planning and application forms. It also contains a powerful 'Google-like' search engine allowing residents to search through the Township's archives for information.
"It's extremely important that we provide up-to-date information from Council for our community online," says Warwick Township Mayor Todd Case. "This powerful resource will enhance Council communications making Warwick Township more open, transparent and accessible for the public."
The new Council Portal continues the Township's push to improve its online presence working seamlessly with its new website. It's ideal for residents who want to be engaged with Council activity, but cannot attend meetings because of their busy schedule.
"Warwick Township is one of the first municipalities in North America to launch CivicWeb, the software which powers its Council Portal," says iCompass VP of Sales & Marketing Scott Neufeld. "This move will help build a stronger community by improving the flow of information between government and the public."
The Council Portal is provided by Canadian Local Government Technology Leader iCompass and is a new feature to a system the Township purchased in 2012 to streamline its internal meeting process.
For more information on iCompass' CivicWeb solution visit http://www.icompasstech.com/civicweb.