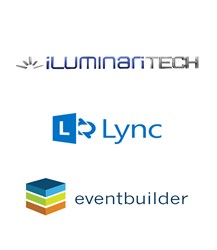 Calgary, Alberta (PRWEB) August 07, 2013
Iluminari Tech, a leading provider of next-generation Microsoft collaboration solutions, is thrilled to announce their partnership with EventBuilder to market L+, an add-on product for Microsoft Lync 2013®.
EventBuilder L+ adds powerful meeting, training, town hall and event features to new and existing Lync deployments. The structured meeting tools include Question and Answer (Q/A) , moderated chat, and focused presenter driven presentations to audiences of any size. Attendee management tools allow attendee privacy while providing registration, surveys and reporting. Its powerful platform allows organizers to set up, automate, publish and manage their meetings, training programs, and events. L+ can also be enabled to charge for events, provide pass/fail grading for event participants, and much more. L+ also includes EventBuilder LyncArchive allowing for centralized cloud-based archiving and viewing of Lync meetings.
"EventBuilder L+ provides our clients with enhanced features for town halls, corporate wide presentations, training and more." said Angela Hlavka, Iluminari Tech's President and CEO. "The cloud service allows customers to be up and running right away, not having to worry about bandwidth or infrastructure and providing immediate returns. By adding to Lync's already substantial features, L+ takes meetings to the next level."
"Iluminari Tech really understands their marketplace and the solutions necessary to serve it. Today's organizations are finding new ways to extend collaboration and communication," said Mark Richards, CEO, at Eventbuilder. "L+ extends the capabilities of Microsoft Lync by providing unparalleled capabilities. EventBuilder is extremely pleased to be working with Iluminari Tech to introduce these capabilities to the Canadian Marketplace."
The partnership with EventBuilder enhances Iluminari Tech's strong ecosystem of Lync Partners. L+ is a comprehensive solution adding world-class event experiences for organizers and attendees. L+ has enterprises adopting the technology and enhancing Microsoft Lync in new ways.
About Iluminari Tech
Iluminari Tech is a privately held Canadian company that specializes in implementing next-generation Microsoft communication and collaboration solutions. Iluminari Tech is Microsoft Gold Communication Partner, Managed Partner, Certified Lync Support Partner and Certified Trainers that provides the expertise, best practices and training to successfully implement communication and collaboration solutions utilizing Lync and Office 365 on-premises and in the cloud.
About EventBuilder
EventBuilder provides world-class communication solutions to connect the communicating enterprise. EventBuilder delivers managed services and SaaS allowing distributed workforces to manage the delivery of information and training.
For more information, please contact:
Angela Hlavka
President and CEO, Iluminari Tech
info(at)iluminaritech(dot)com
[1-877-895-7323]