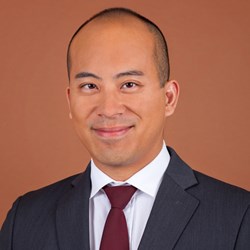 Downey, California (PRWEB) August 01, 2013
Dr. Chung grew up around Washington D.C. He attended the Thomas Jefferson High School for Science and Tech and went on to college at Cornell University, where he also became a certified EMT and first responder. He worked in the Food Science laboratories as a Pre-Med and graduated Magna Cum Laude with a degree in Computer Science. Dr. Chung then moved to New York City for medical school at Albert Einstein College of Medicine, did research at Columbia University, and volunteered in the rural clinics of Guatemala. He stayed in New York City for his residency at Beth Israel Medical Center and moved to California to become a Hematologist/Oncologist at the University of Southern California Norris Cancer Center before joining The Oncology Institute of Hope and Innovation.
Dr. Chung is a skilled listener and a patient advocate. His life philosophy is to promote an active lifestyle and to make healthy decisions. He enjoys exercise, fitness, and sports. Dr. Chung is fluent in Mandarin Chinese and Spanish.
Dr. Chung will be joining thirteen other physicians on staff at The Oncology Institute of Hope and Innovation starting August, 2013 and will be seeing patients out of their locations in Lynwood and Torrance.
About The Oncology Institute:
The Oncology Institute of Hope and Innovation is committed to providing superior, compassionate and state-of-the-art medical care. Offering programs to help patients and families cope with the challenges that are brought on by cancer and strive to optimize their quality of life, comprehensive and realistic treatment goals are tailored to every person's unique needs and decided upon in partnership with the patients and their families. Dedicated to excel in cancer prevention, diagnosis and education through our exceptional team of physicians, nurse practitioners, nurses, medical assistants and office staff, The Oncology Institute of Hope and Innovation has 11 Southern California locations in the cities of Anaheim, Covina, Downey, Glendale, Long Beach, Los Angeles, Lynwood, Montebello, Torrance, Santa Ana, and Whittier. For more information please visit http://www.theoncologyinstitute.com.