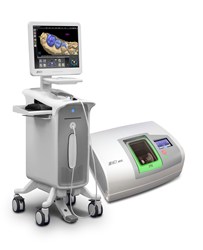 Patient reviews of Dr. Ray's E4D restoration procedures have been outstanding. They report being surprised at how simple the entire procedure was and preferring the increased convenience of saving time with their much-needed procedure.
Issaquah , WA (PRWEB) August 02, 2013
Highlands Dentistry now has the ability to prepare and fabricate same-day porcelain crowns for dental patients thanks to newly added 3D technology.
The added technology offers an unparalleled dental experience for patients and enables the practice to provide patients with a high-quality dental restoration in just a single appointment.
Honoring a commitment to increased efficiency without sacrificing quality, Dr. Ray Besharati DDS DMD is proud to announce the introduction of a new technology in-office: E4D. Complementing Dr.Ray's extensive training and experience, the E4D CAD/CAM Dental System makes "same day dentistry" possible, and can be used to meet a diverse range of patients needs. In just one visit, Dr. Ray is able to create and place flawless all-porcelain crowns.
After digitally scanning the prepared tooth, a virtual restoration is designed and the information is sent to a milling machine on-site. In a matter of hours, crowns can be placed to conceal a multitude of imperfections including chips, cracks, discoloration, and gaps between teeth.
Benefits of the E4D system include not only decreased turnaround time, but an enhanced level of control throughout every stage of creating personalized restorations, which helps to ensure a consistently high-quality prosthetic that blends seamlessly with natural teeth.
Instead of requiring multiple visits to the dentist by a patient, the E4D technology allows teeth to be restored in a single sitting. In fact, these restorations can often be done in just minutes. E4D has been embraced by both dental professionals and their patients.
Highlands Dentistry has now taken restorative dentistry to a higher level. This is modern dentistry for modern lifestyles. For patients, it is more convenient and comfortable. The restorations are also long-lasting, which require fewer dental visits.
About Highlands Dentistry
Highlands Dentistry is conveniently located in Issaquah Highlands proudly serving Issaquah Highlands, Issaquah, Fall city, Snoqualmie, Bellevue, Redmond, Sammamish, Kirkland and the surrounding areas. Highlands Dentistry is devoted to comprehensive and preventive patient care. Dr. Ray Besharati offers years of experience and concern for the physical and emotional comfort of his patients. At Highlands Dentistry's website, http://www.IHDentistry.com, there is an abundance of information about the procedures offered, including the new Hoya Laser Treatment, the early cavity detection laser, Zoom teeth whitening, Invisalign clear braces, dental implants, veneers, cosmetic dentistry and more. Highlands Dentistry encourages its patients to explore and learn all they can about its dental procedures. They believe their patients should have as much information as possible in order to make important, informed decisions regarding their oral health and treatment options.
For more information on Dr. Ray Besharati or the E4D CAD/CAM Dental System, visit http://www. IHDentistry.com or reach his office using the following contact information:
Ray Besharati DDS, DMD
2520 NE Park Dr.
Suite C
Issaquah , WA 98029
(425) 996 0457