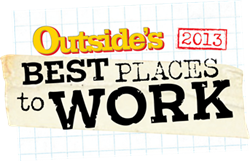 We spend a lot of energy making ZOZI a great place to work because we know that building an inspiring culture goes hand in hand with building one of the world's best active lifestyle companies. - TJ Sassani, CEO & Founder, ZOZI
San Francisco, CA (PRWEB) August 01, 2013
ZOZI today was named in Outside Magazine's sixth annual "Best Places to Work" list. ZOZI was ranked No. 52 out of 100 selected companies. The full list of the top-ten-performing small, medium, and large companies will be published online on August 1 at: OutsideOnline.com/bestplacestowork.
Outside's "Best Places to Work" project celebrates the innovative companies setting a new standard for a healthy work-life balance. The list was compiled with the help of the Outdoor Industry Association and Best Companies Group. The yearlong selection process began with an outreach effort that identified a wide range of non-profit and for-profit organizations with at least 15 employees working in an office in the United States. Participating companies were sent confidential employee-satisfaction surveys and employer-questionnaires to collect information about benefits, compensation, policies, job satisfaction, environmental initiatives, and community outreach programs. The experts at the Best Companies Group then analyzed the results and selected the companies that best enable employees to pursue active lifestyles while also supporting their social and environmental contributions.
This year's "Best Places To Work" list will highlight not only the Top 100 companies, but will also spotlight those on the list that offer the best perks, including "Fitness-Friendly" companies, those with the best "Flex Time" policies, the "Best Travel Perks," and those with the "Best Office Culture".
"For the last five years, my team has poured every ounce of their passion, creativity, and dedication into creating an active lifestyle platform that we believe has the power the make a difference in the lives of our customers," said TJ Sassani, CEO, founder, ZOZI. "This award is especially meaningful because it's the result of honest and confidential feedback from our team. We spend a lot of energy making ZOZI a great place to work because we know that building an inspiring culture goes hand in hand with building one of the world's best active lifestyle companies. We're incredibly grateful to be recognized by our team and named to this prestigious list for the third year in a row; and it's also a great honor to be named alongside other iconic brands, such as Patagonia, who share our ethos."
"We're proud to publicize the efforts of these 100 companies," said Outside editor Christopher Keyes." They each show a real commitment to creating active, healthy work environments and put a premium on innovative benefits. Year after year, Outside's Best Places to Work program demonstrates that America's most successful companies are the ones that consistently promote true work-life balance for their employees."
ZOZI's active lifestyle platform is designed with three pillars in mind: inspiration, commerce, and technology. The ZOZI Guru® team (the inspiration component) is made up of 13 activity category leading celebrities led by global phenomenon Bear Grylls, host of NBC's new summer hit show: "Get Out Alive with Bear Grylls." The ZOZI Gurus inspire people to Get Out There™ and connect with ZOZI's local experiences, getaways, and gear (the commerce component). Details on the technology component will be announced shortly.
CONTACTS:
ZOZI: Tian Lee / tian.lee(at)zozi(dot)com / 323.605.9160
OUTSIDE MAGAZINE: Jada Williams/ Jada(at)giantnoise(dot)com / 646.649.4933
###
About ZOZI®
ZOZI inspires people to live active lifestyles by connecting them with local experiences, getaways, and the gear they need to Get Out There™. On ZOZI, you can discover and book unforgettable experiences that are around the corner or around the world and find the Gear you need for your next adventure. Each experience featured on the site is curated by a team of in-house experts; such as full-moon kayaking, vineyard touring by bike, surfing and relaxing in a private coastal villa, or even once in a lifetime experiences with category leading celebrities, (ZOZI Gurus®) such as snowboarding the Jackson Hole backcountry with three-time X-Games Gold Medalist and Creator of Art of Flight, Travis Rice. The ZOZI Guru® team are 13 category leading celebrities led by global phenomenon Bear Grylls, host of NBC's new summer hit show: "Get Out Alive with Bear Grylls." ZOZI makes it easy to discover experiences in dozens of cities across the US and Canada or book getaways across all seven continents. ZOZI is headquartered in San Francisco with offices in New York City and Vancouver, Canada. For more information, visit: http://www.zozi.com/info.
About Outside
Outside is America¹s leading active lifestyle brand. For more than 30 years,Outside has covered travel, sports, adventure, health, and fitness, as well as the personalities, the environment, and the style and culture of the world Outside. The Outside family includes Outside magazine, the only magazine to win three consecutive National Magazine Awards for General Excellence, The OutsideBuyer's Guides, Outside Online, Outside Television, Outside Events, Outside+ tablet edition, and Outside Books. Visit us online and on Facebook.
ABOUT THE BEST COMPANIES GROUP
Best Companies Group works with national and local partners around the country to establish and manage "Best Places to Work," "Best Companies," and "Best Employers" programs on a national, statewide, and regional basis. Through its thorough workplace assessment, utilizing employer questionnaires and employee-satisfaction surveys, BCG identifies and recognizes companies who have been successful in creating and maintaining workplace excellence.
ABOUT THE OUTDOOR INDUSTRY ASSOCIATION
Founded in 1989, Outdoor Industry Association (OIA) is the premier trade association for companies in the active outdoor recreation business. OIA provides trade services for over 4000 manufacturers, distributors, suppliers, sales representatives and retailers in the outdoor industry. Outdoor Industry Association seeks to ensure a healthy and diverse specialty retail and supply chain based on quality, innovation and service. To this end, OIA works diligently to raise the standards of the industry; increase participation in outdoor recreation to strengthen business markets; provide support services to improve member profitability; represent member interests in the legislative/regulatory process; promote professional training and education; support innovation; and offer cost-saving member benefits. Search for outdoor-industry jobs is at OIA's career center:http://www.outdoorindustry.org.