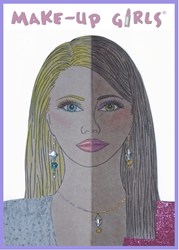 Ms. Zimzores credits her meeting with Iman (whom she describes as "beautiful and brilliant") as a turning point that crystalized her vision for Make-Up Girls®.
Woodstock, New York (PRWEB) August 06, 2013
Chicks Inc. announces the launch of Make-Up Girls® and http://www.make-upgirls.com —a new, progressive fashion and beauty driven hands-on art activity for girls designed with a level playing field so that so that anyone can achieve fabulous artistic results.
Make-Up Girls® has perfectly cast glitzy subject matter as a viable way to engage creative thinking and expose young people to the many benefits of Arts Education. "Art is fundamental to a well-rounded education" says Laura Zimzores, Chicks Inc. CEO and creator of Make-Up Girls® who claims the concept was inspired by "the 3 R's"— Realizing that art stimulates and develops important skills needed to succeed in the classroom and beyond, Recognizing that art funding for schools is lowest on the totem pole and Remembering how she and her sisters loved drawing, sparkly stuff and dress-up. Make-Up Girls® established instant credibility when a billionaire investor expressed interest and again, years later, when the self-published Make-Up Girls® Fashion Color & Design Book caught the attention of supermodel and fashion icon Iman. Ms. Zimzores credits her meeting with Iman (whom she describes as "beautiful and brilliant") as a turning point that crystalized her vision for Make-Up Girls®. "I set my sights on the world stage with plans to produce an exciting and evolving online hub for the Make-Up Girls® hands-on art experience" she explains. This led to a two year collaborative effort with Connecticut based web design and development company Cinevision, Inc. and the creation of Make-upgirls.com with downloadable images, model's portfolios, how-to videos, 4 Style Guides, easy clothes patterns (for "haute couture"), a collection of ready-to-wear fashions, exotic photo shoot locations and "The Runway" which showcases outstanding model renditions submitted by members. There's also Boa Buzz, the official Make-Up Girls® blog, which presents colorful visuals, fashion + art tips, idea sharing and Rising Stars – a page that spotlights select models' looks submitted by the public. To keep the creative juices flowing, website features will be regularly updated and expanded upon.
Visitors to Make-upgirls.com can click on Membership Preview and take the Make-Up Girls® World Tour to see stunning model interpretations and discover how this innovative approach to art uses the power of dazzle to yield substance. "The enticing fashion and beauty premise holds interest which is essential to the effectiveness of Make-Up Girls® as an art education tool and also makes for a great mother/daughter and group activity" states Ms. Zimzores.
In an era so heavily dependent upon electronic devices and apps to educate and entertain young people, Make-upgirls.com offers a welcome respite that promotes hands-on art, fuels imagination, encourages inventive independent thinking and delivers a geniune sense of accomplishment. "Rhinestones, glitter, metallics and texture (think velvet) cannot be experienced on a computer" Ms. Zimzores points out, adding "and handmade will always trump computer-generated in terms of personal touch and style." Viva craftsmanship!
# # # #
Introduced in August 2013, http://www.make-upgirls.com is home to Make-Up Girls®—the first educational, beauty and fashion driven arts and crafts platform for young people. Make-Up Girls® is a trademark of Chicks Inc., a privately held company headquartered in Woodstock, New York whose mission is to promote hands-on art and nurture unbridled creativity so young people can reap the benefits of artistic self-expression. Toward this end, and under their "Discover The Beauty Of Art" banner, Chicks Inc. seeks to form alliances with celebrities, brands and corporations (beautiful pARTners). For more information, contact: Laura Zimzores, Chicks Inc., P.O. Box 708, Woodstock, New York 12498 P: 845 810-0121, F: 845 679 3839 or info(at)make-upgirls(dot)com