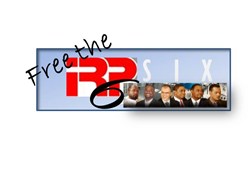 Justice is sweet and musical; but injustice is harsh and discordant. Henry David Thoreau
Denver, Colorado (PRWEB) August 01, 2013
A Just Cause has released additional information in its investigation of the federal criminal case of IRP Solutions Corporation (IRP6). A Just Cause raises questions regarding why the judge in the case didn't recuse herself as well as who has authority to conduct a federal investigation.
The IRP6 case concerns an African-American company (IRP Solutions Corporation) in Colorado that developed criminal investigations software for federal, state and local law enforcement. The case of the IRP6 (Kendrick Barnes, Gary L. Walker, Demetrius K. Harper, Clinton A. Stewart, David A. Zirpolo and David A. Banks) is currently under appeal in the 10th Circuit Court of Appeals. The men were convicted in 2011 after fighting the U.S. Government pro se at trial and have been incarcerated at the Federal Prison Camp in Florence, Colorado since the summer of 2012. The IRP6 continue to maintain their innocence. (D. Ct. No. 1:09-CR-00266-CMA)
Court records show that prior to commencement of trial, David Banks, Chief Operating Officer for IRP Solutions filed a pro se motion requesting that Judge Christine M. Arguello recuse herself due to her personal relationship with Holland and Hart attorney Greg Goldberg. Court records also show that on March 8, 2004, Greg Goldberg hand-delivered a letter to Assistant U.S. Attorney Matthew Kirsch requesting that IRP executives be criminally charged and articulated what statutes they should be prosecuted under (D. Ct. No. 1:09-CR-00266-CMA).
Court records show that Judge Arguello denied the motion to recuse herself. The judge stated that she did not know Mr. Goldberg that well (D. Ct. No. 1:09-CR-00266-CMA). However, a Denver Post article presented a contradictory view of the relationship. The Denver Post quoted Greg Goldberg in a congratulatory statement as saying, "I know Christine Arguello...well..." (The Denver Post September 9. 2008, http://www.denverpost.com/news/ci_10414150). "I believe Judge Arguello's friendship with Greg Goldberg and ties to Holland and Hart contributed to our conviction," says David Zirpolo. "Judge Arguello is human and feelings from personal relationships have an impact in one's thought processes," adds Zirpolo.
According to 28 USC § 455 (a), "Any justice, judge, or magistrate judge of the United States shall disqualify himself in any proceeding in which his impartiality might reasonably be questioned." (28 USC § 455 - Disqualification of justice, judge, or magistrate judge)
In a similar circumstance to the IRP6 case, Judge Arguello recently recused herself in a 2012 case because she was a former partner with a law firm that was involved in the case that was assigned to her. "I question why Judge Arguello didn't recuse herself in the IRP6 case due to her prior position as a former partner of Holland and Hart," says Sam Thurman, of A Just Cause. Public records show that prior to becoming a federal judge, Judge Arguello was previously a partner with the law firms of Holland and Hart as well as Davis, Graham and Stubbs LLP (DGS). Records show that the judge was also on staff at the University of Colorado law program. In court documents for the 2012 case of James River Insurance v. Rapid Funding, LLC (Case no. 07-cv-01146-CMA, Doc. # 285), Judge Arguello recused herself because DGS was representing the James River Company. Arguello, in her disclosure in the case said that it was "normal procedure to recuse herself from any case where DGS enters an appearance." "If the judge took a strong position on recusal in other cases, one must wonder why there was a refusal to recuse herself in the IRP case," ponders Thurman.
Regarding the authority to conduct an investigation, Court documents show that the IRP6 case was kicked off, at least in part, as a result of a complaint letter that was hand-delivered to Assistant U.S. Attorney Matthew Kirsch (Denver) by "private practice" Attorney Gregory Goldberg. The letter requested that IRP executives be criminally charged, and it articulated what statutes they should be prosecuted under (Court Discovery Item -D. Ct. No. 1:09-CR-00266-CMA). Gregory Goldberg is a partner at the Denver law firm of Holland and Hart and was previously an Assistant U.S. Attorney in the same office as AUSA Kirsch. "We believe that the 'complaint' letter that Mr. Goldberg delivered to Mr. Kirsch should be challenged from the perspective that it appears that an investigation was being conducted outside of the authority of U.S. code 516," says Sam Thurman, A Just Cause. "The Goldberg letter is a matter of record. It outlines what to charge 'the perpetrators' with, and ironically the actual charges closely aligned with what was suggested, and this all occurred after the FBI initially stated that the IRP case was a civil matter," adds Thurman. (D. Ct. No. 1:09-CR-00266-CMA)
According to federal law, "Except as otherwise authorized by law, the conduct of litigation in which the United States, and an agency, or officer thereof is a party, or is interested, and securing evidence therefore, is reserved to OFFICERS OF THE DEPARTMENT OF JUSTICE, under the direction of the (Attorney General."28 USC § 516 - Conduct of litigation reserved to Department of Justice).
Discovery documents show FBI Agent John Smith directing staffing companies, who the government alleged were victims of IRP, to contact Goldberg during the course of the criminal investigation. Records further show that Agent Smith faxed Goldberg a copy of a Gazette Telegraph newspaper article that reported details about the FBI raid on IRP offices. The article quoted verbatim language from the search warrant affidavit that was leaked to the press while still under seal by the court. AUSA Kirsch acknowledged the leak during trial but wasn't sure who was responsible (D. Ct. No. 1:09-CR-00266-CMA). "We are questioning actions and interactions between Smith and Goldberg regarding the investigative and litigation activities of the IRP6," says Thurman.
Dr. Alan Bean, Executive Director of Friends of Justice, conducted a six-month investigation into the IRP6 case. Dr. Bean alleges bias in the case and also questions why the judge didn't recuse herself. Dr. Bean published findings of his investigation in "Money For Nothing" (http://friendsofjustice.wordpress.com/20130522money-for-nothing-how-racial-bias-destroyed-six-lives-stymied-a-black-owned-business-and-outraged-a-congregation/).
Court transcripts and appellant documents will show that the defendants have submitted a motion for appeal on the grounds of denial of key evidence, denial of key expert witness testimony, violation of Fifth Amendment rights, missing transcript, and speedy trial violation.
"When a witness did not show, Judge Arguello told us at a sidebar that we (one of the defendants) would have to testify or she would rest our case. The 5th amendment gives us a right not to testify or even speak at our trial," says David Banks. "When we argued that our rights had been violated, the judge denied that she ever told us that," added Banks. Court records show that during trial the defendants challenged the judge on the 5th amendment rights violation and that motions were filed requesting unedited court transcripts (D. Ct. No. 1:09-CR-00266-CMA). Court records also show that defendants have not been provided the unedited transcripts, which is now a point on appeal. "I feel that the items that are currently on appeal reflect the atmosphere that was set in the courtroom by Judge Arguello," concludes Banks.
Court records also show that Judge Arguello and AUSA Kirsch were in contact with defense witnesses prior to their testimony at trial. Judge Arguello and AUSA Kirsch stated on the record that law enforcement witnesses for the defense contacted their respective offices regarding them testifying at trial (D. Ct. No. 1:09-CR-00266-CMA). The IRP6 say that Arguello or Kirsch never notified them that they had received phone calls from their witnesses until issues arose at trial concerning the lack of appearance of some of IRP witnesses. "If we had been in contact with government witnesses, we would have been charged with witness tampering," says Demetrius Harper.
"A Just Cause feels strongly that the actions discovered during this case warrant a federal investigation," says Thurman. "There are six men sitting in prison who were subjected to several actions that, at a minimum, should be considered inappropriate and grounds for a new trial," Thurman concludes.
The case of IRP Solutions (IRP6) is currently under appeal (US District Court for the District of Colorado, Honorable Christine M. Arguello, D. Ct. No. 1:09-CR-00266-CMA; Case Nos: NO. 11-1487, Case Nos. 11-1488, 11-1489, 11-1490, 11-1491 and 11-1492). For more information about the story of the IRP6 or for copies of the legal filings go to http://www.freetheirp6.org. Appellant Court panel includes the Honorable Senior Judge Bobby R. Baldock, Honorable Judge Harris L. Hartz, and Honorable Judge Jerome A. Holmes.