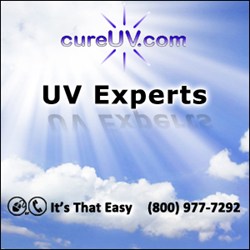 CureUV.com's success comes from returning customers that find what they want, when they need it.
(PRWEB) August 02, 2013
In addition to the original UV lamp and OEM components that made the company who they are today, CureUV.com will now offer advanced technology by broadening their diversity in the UV Curing, UVC Germicidal, UV Inspection and UV Tanning & Beauty products. These exciting, new solutions will only help add to their global customer base, and continue to foster growth in 2013.
To John Wilson, CureUV.com is more than just a place to get UV lamps online. CureUV.com is a UV technology knowledge center with UV application engineering experts who are just a call or click away. The ongoing education of UV technology and the level of service you get with CureUV.com is what makes them one of a kind in a saturated industry. CureUV.com staffs only the best experts in core areas of UV Technology, with departments for Industrial Curing Bulbs, Commercial UVC Sterilization to Germicidal Bulb residential applications, and even automotive applications.
CureUV.com sets themselves apart from the competition by having every type of UV expert on hand and working from within the same company. As awareness and education continue to drive the growing industry, John Wilson and his staff believe the company will continue to grow as well. Their UV applications, mixed in with expert awareness will help them sustain long term growth for years to come because in today's industry, CureUV.com is more than just a place to buy a UV lamp online.
About the CureUV.com:
CureUV.com founders John Wilson and Robert Schenk began their careers on the manufacturing side of the industry, developing automation systems, as well as building and repairing custom printing equipment. This experience gave them a full and complete understanding of printing equipment – how each component functions individually and as part of the overall system. This combined experience and background makes it possible for CureUV.com to offer customers a level of technical support that surpasses mere customer service. Our hands-on, technical expertise is with you every step of the way, from evaluation to execution. To experience the CureUV.com difference, visit the tech support section of their website, or call and make an appointment with John Wilson today.