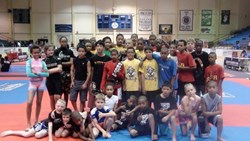 Camp Springs, MD (PRWEB) August 19, 2013
Lloyd Irvin Martial Arts Academy is a renowned martial arts school in Prince George's County Maryland. It's been open to parents and children of the community for over ten years and to celebrate, the owner, Lloyd Irvin, is offering registration for the upcoming school year.
The Lloyd Irvin Martial Arts Academy has produced some of the county's finest students and athletes. Youngsters, such as Aarae Alexander, Cedric Bryant, and Derrick Holmes, attended the After School program throughout their youth. Now, all three are in college and graduated high school with 3.0 or better GPAs.
What's made the program at Lloyd Irvin Martial Arts Academy so successful is the systematic, disciplined approach they have with students and parents.
First, the Academy provides transportation for all it's attendees. Once the children arrive to the martial arts school, they sit to eat their snack, then it's straight to homework. Instructors and counselors provide homework help. All children must complete their homework in it's entirety before the fun and games can begin.
After homework, the kids begin their training. In the martial arts portion of the after school program, they learn self-defense, thai jitsu, jiu jitsu and other amazing martial arts. It's more than fun, games, and athletics though, these kids are learning very important life skills such as structure, leadership, focus, confidence, team work, and manners. In fact, all students learn "yes ma'am/yes sir" and "no ma'am/no sir."
All the children continue their martial arts training until they are picked up by a parent or guardian. Lloyd Irvin Martial Arts accepts children ages 7-12 in to the after school program. The children are allowed to stay until 6pm in the After School program, but many students and parents continue to stay longer for training.
In fact, the Lloyd Irvin Martial Arts Academy has regular classes for kids 2-17 years old and beginner through advanced martial arts and fitness classes for adult men and women, so it's normal to see an entire family training at the facility.
For more information on the after school program, or any other programs at Lloyd Irvin Martial Arts Academy, please call 301-449-KICK.