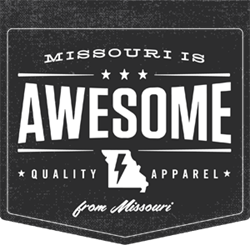 "Missouri is Awesome campaign will benefit local nonprofits."
Springfield, Missouri (PRWEB) August 05, 2013
5 Pound Apparel, a retail clothing store, has released a Kickstarter campaign entitled "Missouri is Awesome." The goal of the campaign is to raise $5,000 that will be used to launch http://www.MissouriisAwesome.com with a plethora of Missouri-related apparel, plus clothing promoting the awesomeness of St. Louis and Kansas City. Any extra money raised during the campaign will be used to add apparel options for additional cities like Columbia, Springfield, and Joplin – the possibilities are endless!
5 Pound Apparel opened in Springfield, Missouri on December 10, 2010. Each shirt purchased from the store's in-house brand provides five pounds of food to malnourished children in Nepal. Missouri is Awesome was launched in an effort to benefit local nonprofits. A portion of each sale will provide support to nonprofits based in Missouri, which are yet to be determined.
Bryan Simpson, founder of 5 Pound Apparel and Missouri is Awesome, says, "When we opened 5 Pound Apparel in 2010 the company was helping people all over the world – but not doing much locally. These shirts give us a chance to promote our love for Missouri while helping people throughout the state."
The campaign ends August 18, 2013 at 10 p.m. CST.
Kickstarter Campaign: http://www.kickstarter.com/projects/58617497/missouri-is-awesome.