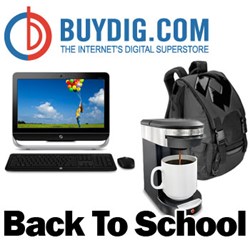 Edison, New Jersey (PRWEB) August 02, 2013
BuyDig.com, the Internet's #1 Superstore, has some great deals for families getting ready to go back to school. Whether it's a graduate heading off to college or a kindergartner preparing for their first day of school, BuyDig.com has something to make getting back into the academic year a smooth and easy process – backpacks, dorm essentials, tablets, and much, much more. BuyDig.com has all of these items available at extremely low prices to help their customers keep more of their money to spend on extra-curricular activities.
Shopping and saving for getting back into the swing of school has never been easier. BuyDig.com's Back To School page can help families navigate those long school supply lists in seconds and can help the new college student to prepare for living in the dormitory. With everything from laptops and tablets – great for taking notes – to backpacks and headphones, BuyDig.com has something for everyone gearing up for the new school year.
In addition to these great Back to School deals, BuyDig.com, in conjunction with V.me, is offering $20 off the purchase of some of their top-of-the-line backpacks. From now until August 7, 2013, customers who order one of these selected backpacks can knock $20 off the price with the coupon code "VmeBackpack20" at BuyDig.com. What better way is there for BuyDig.com's customers to start the school year than with a new, stylish and sturdy backpack that lets them keep more money in their wallets?
Back in June, BuyDig.com began offering a free $50 gift card from restaurant.com with the purchase of any piece of luggage from their store. By popular demand, BuyDig.com is extending this offer until Labor Day. With summer vacation winding down, there's no reason to delay those trips any longer. Especially not when BuyDig.com and restaurant.com have teamed up to help with meals on the go for travelers. All that's needed is to purchase some new luggage from BuyDig.com!
As if all of this was not enough, BuyDig.com has temporarily marked down the prices on many of their sporting goods. With products from brands such as Wilson, Rawlings, Worth and Franklin now available at extremely low prices, signing the kids up for sports teams has never been such a good deal. Just enter the coupon code SCHOOLSPIRIT10 for 10% savings!
About BuyDig:
BuyDig.com is a privately-held and operated online retailer based in Edison, New Jersey. Founded in 1983 under its parent company, Beach Trading Co. Specializing in selling digital cameras, electronics, computers, tablets, audio/video, home and garden, kitchenware and more, BuyDig has worked diligently to become the Internet's #1 electronics superstore. BuyDig partners with many of the major CE manufacturers such as Canon, Samsung, Sony, HP, SanDisk, and Toshiba to make consumer technology and electronics affordable and available to the widest market possible. BuyDig also offers free shipping as well as a 45-day return policy on items purchased from their store. By combining legendary customer service with a philosophy of providing more for less, BuyDig.com has earned its reputation as the premier destination for consumer electronics.