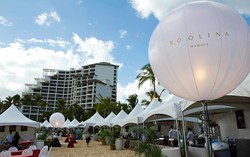 Honolulu, HI (PRWEB) August 06, 2013
What better way to celebrate the Hawaii Food & Wine Festival's finale than on the beach with Oahu's most dramatic sunset at your back. "Savory Ever After" will feature a global tour of ethnic dishes prepared by 14 celebrity chefs - all under a canopy of stars.
When: September 8, 2013, from 6 p.m. to 9 p.m. (Early VIP Entry/Seating 5 p.m to 9 p.m)
Where: Ko Olina
Cost: $200 per person/VIP $500 per person (Sold Out)
Tickets for purchase: http://www.hawaiifoodandwinefestival.com/schedule/day-5/savory-ever-after
Room packages at Ko Olina's resort properties are also available.
For more information, visit http://www.koolina.com/events/hawaii-food-wine-festival .