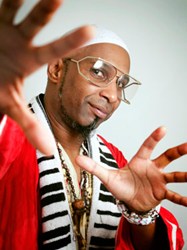 "Sosa's Davis-like reputation as an uncompromising artist who does his own thing, regardless of trends, makes him a perfect choice for this project, and he does not disappoint. It's stunning!" -AllAboutJazz.com
San Rafael, CA (PRWEB) August 05, 2013
Omar Sosa's new project began as a commission from the Barcelona Jazz Festival in 2009. The assignment: to compose and produce a tribute performance to Miles Davis' classic recording, Kind Of Blue, on the occasion of its 50th anniversary. Inspired by various musical elements and motifs from Miles Davis' Kind Of Blue, Omar wrote a suite of music honoring the spirit of freedom in Davis' seminal work. Featuring trumpet and saxophone, Sosa's recent recording; Eggun, provides a medium for musical elements from Africa to shape and develop the music. The resulting jazz textures are further enhanced by the subtle and expressive use of electronic elements. At the heart of the recording is the spirit of Mother Africa.
WHAT: Omar Sosa's Afri-Lectric Sextet's tribute to Miles Davis, presented by The Kanbar Center @ the Osher Marin JCC
WHO: All are invited. This event offers Reserved Table seating as well as General Admission choices. No membership or Jewish affiliation required to attend ANY JCC events
TICKETS: Advance Tickets: $25 gen adm/ $35 table
Day of: $30 genl adm only
WHEN: Sun., Nov. 3 @ 7:00 ~ Doors/No Host Cocktails @ 6:30.
WHERE: The Osher Marin JCC, 200 North San Pedro Road, San Rafael.
PARKING: Ample free parking. Accessing the Osher Marin JCC from Highway 101 is effortless, 1/2 mile E off 101.
TICKETS: Available at http://www.marinjcc.org/arts ~ 415.444.8000
The Kanbar Center for the Performing Arts is the Performing Arts Department within the Osher Marin Jewish Community Center in San Rafael, California. For over 20 years we have spread the power of music, voice, humor, taste, culture, movement and words throughout the community by presenting classical music, club style dancing events, comedy, musical concerts, theater and performance in the grand Hoytt Theater, lectures. chats and demonstrations in the Kurland lounge and great world music & dancing for all ages outdoors under summer skies on Swig Field. All are welcome; no membership is required to attend. The Center is a long-standing Marin non- profit, centrally located in Marin County and just 1/4 mile east off Hwy 101.