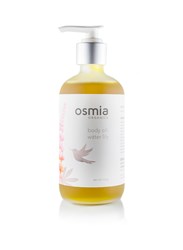 We are hoping to create a whole community of people who can't live without their Osmia body oils - the aromatherapy is matched only by the skin benefits.
Carbondale, CO (PRWEB) August 01, 2013
Adding to their collection of luxurious body oils, Osmia Organics is introducing two new scents: Sunset and Water Lily. The oils in the collection are named for elements of nature. The best selling scents are Night, Stream, Forest, and Flower, each with its own aromatherapeutic benefits based on the organic and wild-harvested essential oils and extracts used for each formula.
Sunset is a warm, feminine, and sensuous oil with organic vanilla and jasmine extracts. It was created in response to customer requests for both vanilla and jasmine body oils. Osmia founder, Dr. Sarah Villafranco, decided to address both request with one product. Combining the precious extracts in one oil makes for a uniquely sublime olfactory experience. The vanilla bourbon CO2 used is a rich and beautiful vanilla scent, while the organic jasmine extract adds a precious, soft floral note. A subtle coriander spice note adds a bit of complexity and warms the scent even further. The name is based on the colors evoked by the smell of the oil - warm, spicy hues of orange and red, as seen surrounding a setting sun.
Water Lily is a vetiver-based scent - deeply grounding and earthy, with bright ginger lily extract to balance its depth. It is a unisex fragrance and lasts many hours on the skin due to the tenacity of vetiver. The mild spice of ginger lily adds a dimension of unexpected warmth to an otherwise cool scent, fortifying and stirring at once.
While each of the oils in the collection features a beautifully distinctive aroma, they all share the same base oil. This common base comprises 11 incredibly nourishing, botanical oils (9 of which are certified organic), each with its own set of benefits for the skin (read more about those benefits here). With healing organic jojoba oil, anti-aging and regenerative organic rosehip seed oil, antioxidant kukui oil, and anti-inflammatory organic hemp seed oil, the Osmia Organics body oils are powerhouses of nutrients that strengthen, rejuvenate, and deeply heal the skin. Oils are available in a large 7.5-ounce pump bottle or a 2-ounce bottle with a screw top.
To learn more about Osmia Organics, the recently launched, artisanal, natural skin care line from the mountains of Colorado, or to purchase these new body oils, visit www,osmiaorganics.com.