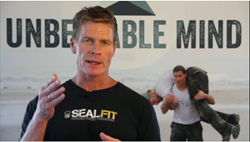 Greenville, SC (PRWEB) August 01, 2013
The average human is capable of at least twenty times more than they think they are. The 20X Challenge proves this in a one day event delivered by SEALFIT certified coaches at CrossFit gyms and other training sites around the country. Start your year right by joining us on Saturday, August 24 for "Carolina Tough", a 20X Challenge at and in partnership with CrossFit Alliance in Greenville, SC.
Training starts with classroom work teaching how to develop an Unbeatable Mind based on the SEALFIT inspired Unbeatable Mind Academy developed and created by Commander Mark Divine, founder of SEALFIT. This seminar is designed for professionals and athletes who desire to develop an Unbeatable Mind. Unbeatable Mind Academy trainees experience increased focus, peace of mind, resiliency, mental toughness, calmness under pressure and heightened awareness as a result of putting the principle of this program to work in their daily lives.
Next, participants do crucible physical training that creates a permanent shift in awareness and confidence. This Challenge is a great mental toughness preparation for the famous Unbeatable Mind Kokoro Camp, which is a great next personal goal. Participants test against the SEALFIT standard and learn the techniques that will allow them to dominate any challenge in life. With the possibility of gaining mental toughness and a warrior's non-quitting spirit while learning to embrace the suck, become a world class teammate, and discover individual true potential, this Challenge is fitting for just about anyone.
Content covered and hands-on training includes:

Planning and Goal Setting
SEALFIT Training philosophy
Decision making in chaos
Arousal Control
Visualization and Positivity
Attention Control
Teamwork and Leadership
The CrossFit Alliance 20X Challenge is unique because most of the participants are Master Athletes (age 40+) who are doing a challenge that "old" people aren't supposed to be able to do. Carolina Tough Participant and Leader for the Challenge, Cynthia Hardwick, who is 62 years young, explains her motivation here:
"I was motivated to do this event to help me be more aware of my inner self and what I can do to improve physically, mentally and spiritually and do it with a team where we all work together to become a powerful unit of thinking positively to help us cross any obstacle that comes our way and to encourage others to do the same." Cynthia Hardwick, Carolina Tough Participant
The co-ed Challenge can benefit anyone from Corporate Executives to Athletes to Law Enforcement Officers. Recently it benefitted CrossFit Games Winners, Hack's Pack UTE (the First Place 2013 Team) and Lindsey Valenzuela. Anyone who wants to take their mental game to the next level can do it here.
Participants also receive a free three month subscription to the Unbeatable Mind Academy web based training to continue and expand upon their experience. For more information and to register please visit: http://www.sealfit.com/20x-challenge/. For future 20X Challenge and other upcoming event dates please visit: http://www.sealfit.com/events-calendar/.
More on Mark Divine: With an MBA from NYU Stern School of Business and a CPA in his briefcase, Mark learned the majority of his good Leadership skills when he became a Navy SEAL officer. Mark since started his career as an entrepreneur and is now running successful US CrossFit and SEALFIT Campuses in the heart of North County San Diego, training thousands via his online Unbeatable Mind Academy, and enlightening others via his numerous trainings and publications. Among many accomplishments, Mark pursued a PHd in Leadership at the University of San diego and has served as an Adjunct Professor of Leadership in their undergraduate school.
For Press Inquiries, contact tiffany(at)deliciousbuzz(dot)com.