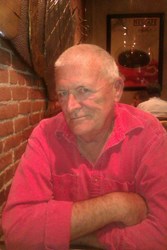 Los Angeles, CA (PRWEB) August 24, 2013
Lee Dodson was informed by Google that his survey, "Today's View on Homeland Terror," posted its one hundred millionth entry, and the terrorism writer discussed the overriding importance of not only the statistics, but also what he views as mounting concerns over southern border security, but that wasn't all that was on his mind.
"I wanted to take this opportunity to thank Google, my press relations group, and the distribution crew for their attention to detail and for their readiness to rise to the challenges that 100,000,000 responders present," Dodson said. "It would not have been the success it was without these terrific professionals."
The writer created the survey as a gauge of public sentiment reflected in what he considered his main audience for his novel, Infiltration. "The survey did unexpected things by growing like Topsy and by providing a platform for discussion of border security on a very serious level. It garnered more interest than anyone imagined, and my team did it."
"I have not had the privilege of meeting these folks face to face, but I know them by their performance. We accomplished more than we set out to do. It appeared to be the time to shut it down as a success, but for some reason that has not been explained, Google did a rollover by resetting to zero," Dodson stated. "The original goal was to get the name of the book, Infiltration, on the public mind, and that was done, with their help.Now, it appears we're starting anew."
Dodson's book, Infiltration, is a fictional account of the danger if the border remains at current porosity, and he appeared on Far Right No Apologies Blog Radio Show Monday evening 8 pm EDT hosted Roger Dorn.
Using the survey as a talking point, Dodson went as far as offering complimentary copies of the novel, Infiltration, to United States Senators before they voted on S.744, colloquially called the Amnesty Act. The novel, written as entertainment, exposed what the writer describes as "the soft underbelly of United States' southern border" with Mexico. Senators did not take him up on the proposition. He made the same offer to any Member of the United States House of Representatives.
The thrust of the interview with Roger Dorn and other interviewers focused on the survey and its meaning. The two men discussed in depth the history of the survey, and what it meant.
Statistically, the shocking results have not changed.
Do you expect another major terrorist attack on the United States, including Hawaii, Alaska, or any of its territories?
Yes 99%+----No 1%- (over 99,000,000)
Do you expect there to be great loss of life?
Yes 99%----No 1%
Do you expect a WMD to be used in the attack, i.e. poison gas, biological weapon, nuclear weapon?
Yes 99%----No 1%
Do you expect foreign nationals to carry out an attack?
Yes 99%----No 1%
Do you think sleeper cells are already in the United States?
Yes 99%----No 1%
Do you think you might have to defend yourself from terrorists in this country?
Yes 99%+----No 1%-
Do you think the U.S. government will be able to defend against a homeland invasion?
Yes 1%----No 99%
Do you believe that the current administration is truthful about terrorism in this country?
Yes 1%----No 99%
Do you think that we as a nation believe that terrorism is over?
Yes 1%----No 99%
Do you know enough about what to do if a terrorist attack strikes near where you live or work?
Yes 2%----No 98%
"If anyone wants to know why I think I'm being ignored, they should pick up a copy of Infiltration, and find out for themselves."
Dodson currently posts columns at The Brenner Brief, under the direction of Creator/Editor, Sara Marie Brenner, which caused respondent numbers to vault to two million per day, and he has written a series of articles that outline four important views required to better understand current terroristic mindset and tactics to be expected.
The author looks forward to discussing views of the survey and is announcing another quest to help people in the construction industry with the re-launch of the contractorside.com.
One dollar of every copy sold is directed to:
"Injured Marine Semper Fi Fund"
CFC#11459
Dodson appears on Gary Sheler's Morning Show (KAAA/KZZZ) some mornings 7 am MST, and expects more appearances on other talk-radio shows to be announced in the next weeks.
Dodson's book, Infiltration, is now available at smashwords.com in all formats, Amazon in Kindle format with a sequel out in September 2013. He is also author of This Never Happened, a story based on the disappearance of the Anasazi race, and his new book, Daylight Raid, is set for release in late July 2013.
Price: $4.32 retail; $1.00/ copy to Semper Fi Fund
323-243-0404
vndk8r(at)gmail(dot)com
http://www.skoshitiger.com/
Twitter: skshtgr11