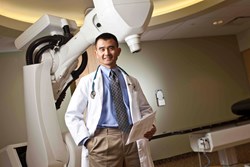 Reno CyberKnife is the only center in northern Nevada offering this prostate cancer treatment using CyberKnife® technology.
Reno, NV (PRWEB) August 01, 2013
The American Society for Radiation Oncology recently endorsed stereotactic body radiation therapy as a first line treatment option for prostate cancer, highlighting SBRT as a primary form of treatment for prostate cancer.
Reno CyberKnife is the only center in northern Nevada offering this type of treatment using CyberKnife® technology. The center has treated more than 100 patients for the disease since opening, drawing patients from California and Idaho to receive treatment.
Reno CyberKnife patient Jon Nowlin traveled from Carson City for the procedure. After his initial prostate cancer diagnosis in 2006, Nowlin knew he would pursue robotic surgery should he ever require treatment. His local prostate cancer support group first introduced him to SBRT when Reno CyberKnife medical director Dr. Jonathan Tay spoke about the procedure at a meeting.
Like many patients in the early stages of a prostate cancer diagnosis, Nowlin practiced active surveillance of his tumor rather than immediately seeking treatment. A biopsy in April 2012 showed his tumor growth had progressed to the intermediate stage. Nowlin turned to Reno CyberKnife for treatment.
"I spoke with Dr. Tay and he was very educated on the technology and was candid about what the treatment would be like," Nowlin said. "After talking with him, I felt that I understood the procedure and didn't have questions going into treatment."
During CyberKnife treatment, precisely focused high doses of radiation conformed to the shape of the tumor are delivered. The treatment is painless and requires no incisions or sedation. As an added benefit, the CyberKnife is able to track the tumor in real time and adjust for patient movement during treatment.
"About 60 percent of all prostate cancer cases are diagnosed in men 65 years of age or older. Men of this age may require or request a treatment option that reduces long term side effects commonly associated with prostate cancer treatment," Dr. Tay said. "For those who are candidates, CyberKnife treatment is a nonsurgical alternative that many are looking for."
Treatment is completed in five or fewer sessions, compared to an average of 40 sessions typically required with conventional radiation therapy. Patients usually return to their normal routines immediately following treatment and experience few to no side effects.
"I would absolutely recommend CyberKnife treatment to other men with prostate cancer," Nowlin said. "I felt no discomfort during treatment, and the Reno CyberKnife staff made sure I was doing well in follow up consultations and had everything I needed."
In addition to prostate cancer, Reno CyberKnife treats malignant and benign tumors in the brain, lungs, liver, pancreas, kidney and orbit of the eye. The center also has treated several patients with trigeminal neuralgia, a debilitating nerve disorder.
Reno CyberKnife is a service of Saint Mary's Regional Medical Center and is located at 645 North Arlington Ave. in Reno, Nev. For more information, call (775) 348-9900.