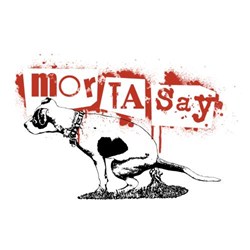 So cute we call him our Brad Pitt bull.
Los Angeles, CA (PRWEB) August 13, 2013
Mortasay discovered 'Mo' (their mascot) a little under 3 years ago at a place called Barking Bitches. He was part of a liter of pups that were found emaciated and abandoned. They had gone to this particular rescue to find a smaller dog. More specifically a Boston Terrier. That's when Mo rescued them. Lead singer/songwriter Vonyse had never had a dog of her own and was afraid she wouldn't bond. Drummer Amy Lou Palmer was raised around dogs, but as an adult, was looking forward to having her own. The three have been inseparable ever since." He's taught us more than a little about nonverbal communication and unconditional love," says Vonyse.
Mo's tore ligament has kept him mostly house bound. The quality of his life has be diminished since the injury. Considering he's such a young dog it's painful to see him suffer so much before he's had a chance to live, simply because of finances. "We aren't starving artists but we do live check to check. Things would be different if Mo had Betty White or Sarah McLachlan in his corner, but he's stuck with us," says Amy.
The two aspiring artists can't afford a lot of perks, but are offering items like Mortasay Refrigerator Magnets, custom designed coffee table books about Mo and Mortasay T-shirts.
Mo is on track to becoming a service/therapy dog. Mo has the perfect temperment for working with Children and the Elderly. Both older and younger people light up when they see him. He can't go anywhere without at least 10 people wanting to pet him or take his picture. Mo's love should be shared with as many people as possible and this band is determined to make it happen.