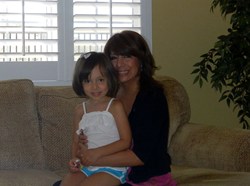 (PRWEB) August 06, 2013
Maria Maro, owner of So Sweet Girl Boutique, is pleased to announce the creation and launch of her new online store. Maria, a stay-at-home-mom to five year old daughter Sophia, found herself shopping online for the latest and cutest clothing and accessories for her daughter and nieces. That's when it came to her that maybe she should start her own internet business doing something she truly enjoyed—offering fun and feminine products for the special girls in everyone's lives. Maria, who used to work out of the home, is especially excited that she can now earn an income through her new home-based ecommerce business which will allow her to be there for all the treasured moments as her daughter grows up.
Maria's goal is to provide the best products and service to all her customers. So Sweet Girl Boutique continuously searches far and wide to carry a wide variety of quality products that will make all of the sweet girls in your life feel special. The Boutique is a perfect place to shop for young girls for that special day or event such as holidays, birthdays, parties, weddings, and portraits. The store carries holiday and special occasion dresses, beautiful furnishings, room décor, stylish bedding, accessories, and playhouses. Many of the products they offer are from American designers and some are custom made.
So Sweet Girl Boutique knows that every little girl has a bit of fashionista in her and they work with the top designers for their Girl's Apparel collection. Maria says, "Every girl will feel like the princess she is in our Special Occasion Dresses and our Couture Ballet Slippers. Our Girls Tutus and Petitskirts are so adorable you'll just want to eat her up. Pair them with our Sassy Tees and Tops and our precious Girls Shoes and your fashionista will be well on her way to Diva!"
The store's Birthday Boutique offers fabulous birthday clothing. Maria suggests pairing one of their Personalized Birthday tops with one of their Birthday tutus or petitskirts. And to make every girl's room fit for a princess, So Sweet Girl Boutique has stocked their Girls Room Decor Collection the most precious collection of Girls Bedding and Furniture.
At So Sweet Girl Boutique, they also know how special play time is for little girls. Their Cottage Playhouse collection and Unique Toys (including dolls, doll furniture, play kitchens, playsets, art easels and more) make ideal gifts and will be sure to offer many hours of creative and imaginative play.
And Maria says, "Before we know it the holidays will be here. It's not too early to plan ahead and order one of the adorable tutu costumes for Halloween, or a dress from the Holiday Boutique. There are many other holiday ideas in the Personalized Gift collection including personalized bracelets, picture frames, towels, necklaces, umbrellas and iPhone cases."
So Sweet Girl Boutique is constantly expanding its collections to bring its customers all the very best in the marketplace. It's Maria's goal that So Sweet Girl Boutique becomes your favorite place to shop for all the sweet girls in your life.