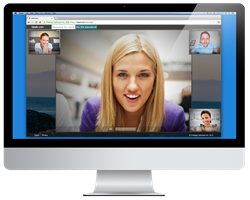 Embedded Tawk.com supports the 70 million WordPress site or any other site. It's just like embedding a YouTube video.
Victoria, BC (PRWEB) August 01, 2013
Tawk.com's recent release at WebRTC Expo and Conference in Atlanta won the "Best All Around Award". "In the rush to complete the release for the show we left some features out that really make Tawk.com sing," says Doug Pelton, CEO of Priologic.
"Tawk.com accomplished what we wanted for the show delivering frictionless, free, anonymous, secure WebRTC based video chat," says Pelton.
"A few months ago, we pulled back from releasing a WordPress Plugin for WebRTC video chat. We had it completely built and ready to release, but when we did some usability testing we found out many WordPress hosting sites did not support uploading WordPress plugins," says Pelton, "Our new embedding will not only support 70 million WordPress sites and but any other type of website."
"Embedding any Tawk.com room is just like embedding a YouTube video. We've also added a notification service. When someone enters your room you get their picture in your email. And finally, using notification you can regain control of your room if you forget your password."
"Priologic's EasyRTC open source won 'Best WebRTC Tool' at the last WebRTC Expo and Conference for that toolset," according to Pelton. "EasyRTC Enterprise, our latest bundle targets WebRTC solutions for larger organizations that need greater scale, security and management tools."
Priologic is a boutique software development company located in Victoria, BC Canada that specializes in developing WebRTC tooling and contract development services for larger organizations.